Web Designing
Career in Web Designing: Courses, Skills & Responsibilities
Posted on 18 Sep 2022
10:06 AM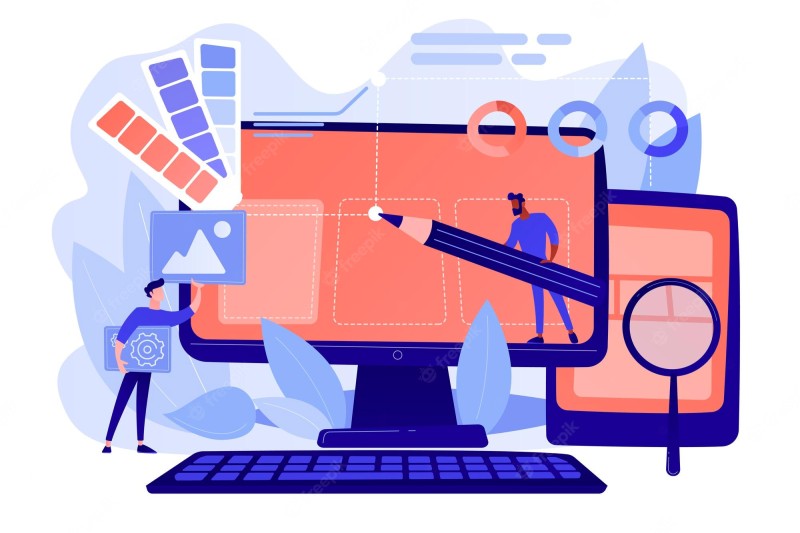 freepik
Summary
Web designers are needed in almost every sector, from governments to educational institutions, and everything in between
A web designer builds or designs each and every visual element of a website
With more and more businesses moving online in a bid to get more customers, on any given day, you are sure to come across at least 10 new websites as you browse through whatever it is that you went looking for. Have you ever wondered about the design of all these websites? Who decides the layout? Who gives the website its look and feel? In other words, who takes care of the UI or User Interface of any given website or app? A web designer, of course.
A web designer builds or designs each and every visual element of a website. They are responsible for making sure websites are not just helpful and user-friendly but also aesthetically beautiful.
To help you decide if being a website designer is a good fit for your interests, let's first discuss the skills and education required. Then, we'll go over a list of a website designer's typical daily responsibilities.
Career in Web Designing: Courses to Study
While a degree may not be required by all companies, it is good to have some formal education or training so that you can be abreast with the latest in the field. Both degree-level and diploma-level web design courses are available. Web Designing certifications are also offered by certain colleges and institutes. You can choose to go for an overall degree or a specialisation, based on your unique need. Here are some of the common options:
B.Sc in Multimedia and Web Design
M.Sc in E-Commerce and Web Design
Advanced Diploma in Multimedia and Web Design
Postgraduate Diploma in Web Design
Diploma in Graphic and Web Design
Diploma in Web Design
Certificate in Web Design
Certificate Course in Internet and Web Designing
Certificate Course in Animation and Web Designing
Google UX Design Professional Certificate Course
UI/UX Design Specialization Certificate Course
Responsive Website Development and Design Specialization Certificate Course
Read: Digital Design: A blend of creativity & technology
Career in Web Designing: Skills to Master
While creativity and visual style are essential skills, website design goes a little beyond mere digital design. With the interplay of UI and UX, there is much that a website designer must be aware of. Here is a list of both technical & soft skills that a web designer should have.
A website's content and elements are displayed in a browser according to instructions provided by the HyperText Markup Language or HTML. Titles, headings, and paragraphs are important components of search engine optimization, and their appearance is determined by HTML tags. Hence, it is important for a web designer to have a good hold on HTML.
Gone are the days when websites would only be accessed from standard desktops. Today people have access to a wide array of devices - mobiles, tabs, computers, laptops - from which they can access the website - each having different usability, screen sizes and ratios. Responsive design refers to website designing in such a way that it can adapt to various screen sizes automatically. While this sounds simple on the face of it - it is quite complex and one of the main components of website design.
CSS, which stands for Cascading Style Sheets, is a scripting language that gives web designers more control over a website's visual aesthetic. CSS enables you to modify a web page's fonts, colours, backgrounds, and other visual components. Needless to say, the designer must be able to understand and work with CSS.
There was a time when every website would have to be designed from scratch. But with the latest and constantly evolving web design tools and technologies, it has become easier for designers to leave the basics to the tool and focus on the innovations themselves. But to do that effectively, a designer needs to be well-versed in using said tools.
In-house web designers frequently collaborate with web developers and visual designers. In fact, as with any real-life situation, this means there is likely to be some dissonance. A website designer must be a team player, one who is able to understand the requirements of the team are from him, and the vision of the various stakeholders. You must also be able to translate them into visual design, as well as be open to opinions and change requests.
Whether you work freelance or as part of a company, web designing is a time-consuming job. And when working within timelines, it is imperative that you manage your time well so as to be able to meet the deadlines, especially when you are working in collaboration with a UX team who must also work alongside you. Creating schedules, making realistic commitments, planning tasks ahead of time, and planning for contingencies are some of the best practices to follow.
Check out: Fine Arts Career in India
Career in Web Designing: Responsibilities to Manage
One's involvement in the technical and graphical elements of pages as a web designer will impact both the aesthetics and functionality of the website. The maintenance of an existing site will also fall within your responsibility. Check out the list of the responsibilities a web designer might be managing in an organisation. You may be responsible for some or all of these, depending on the size of the organisation and the nature of the business.
Routinely communicate with clients and meet with them to determine their needs
Write up precise website requirements
Design sample page layouts with text in different sizes and fonts
Design visual elements, animations, and digital image manipulations
Work across content management systems and coding languages
Give search engine optimization some thought (SEO)
Abide by pertinent legal obligations, such as those regarding privacy, freedom of information, and accessibility standards
Work with other online experts, such as web developers and graphic designers
Provide post-sales technical assistance
Test the website across multiple devices to ensure it is functioning smoothly
Study current design trends and train the clients' team
Web designers are needed in almost every sector, from governments to educational institutions, and everything in between. With the internet being available at the touch of a button and across a gamut of devices, this has also become a prime place for businesses to reach their audiences. And whatever the business, their 'store-front' would have to be a website - making web designing a highly in-demand career, and this trend is unlikely to reverse itself anytime soon.
Last updated on 18 Sep 2022
10:06 AM