merchant navy
Career in Merchant Navy: Career opportunities, roles and educational qualification
Posted on 24 Sep 2022
10:56 AM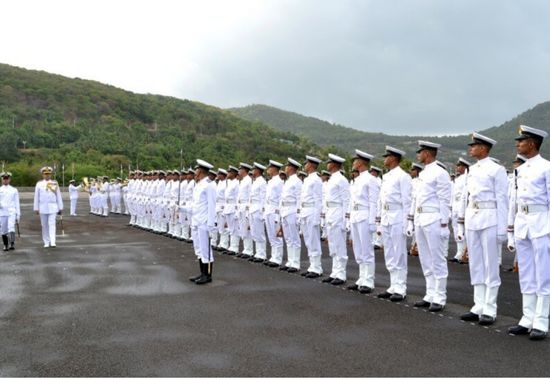 Summary
Merchant Navy can largely be associated with the shipping industry responsible for the transportation of cargo and passengers through sea routes
Salary packages offered in the Merchant navy are quite attractive, ranging from INR 35,000 to INR 6,00,000 per month, depending on your job experience
If you're looking for a high-paid job and want to have strong financial independence, then the Merchant Navy might be the career path you want to take. It is partly glamorous because being a seafarer can sail you to the corners of the world but also at the same time, it is a strenuous job that will need you to handle immense physical pressure. There will be times when you will have to sail for 6-8 months when you remain disconnected from the rest of the world and also your family.
Speaking of the demand, with the advances in industrialisation, the merchant navy is a flourishing industry and is only expected to reach newer heights. So, want to take a look at the opportunities and pathways to careers in the Merchant Navy? Then here is all you need to know.
Merchant Navy as a Career
The Merchant Navy is associated with the shipping industry responsible for the transportation of cargo and passengers through sea routes. There are a lot of merchant ships like container ships, oil or gas tankers, oil rig supply vessels and various others that cross the seas carrying their cargo. It is said that as much as 95% of trade goods are carried through sea routes, and hence, the demand for shipping is increasing year on year.
To summarise, a career in the merchant navy requires hard work, but you are also contributing to the country's commercial shipping sector, giving you global prominence at the same time. It is a job that demands you to be at sea for months at a stretch. If you are looking for a handsome pay package then a career in the merchant navy is the right choice for you.
Opportunities in the Merchant Navy
There are a number of different areas on a ship that the crew of a ship tend to while at sea. Freshers or less experienced candidates are usually inducted into entry-level roles, and they need to pass certain exams to progress up the ranks and reach higher positions. The different personnel on a ship are:
Deck Officer: A ship will have a number of deck officers, popularly known as navigation officers, who are responsible for taking decisions on steering and manoeuvring the ship, and controlling navigation and communications. They use GPS systems to navigate the ship and are responsible for monitoring weather reports and taking decisions accordingly. Ship navigation, strategising and safe handling, communications, cargo handling, and delivery are some of the major responsibilities of navigation officers.
Following are the rankings of Deck Officers, arranged in order of seniority:
Chief officer/ mate
2nd officer/mate
3rd officer/mate
Deck Cadet
Marine Engineering: Marine engineers maintain the machinery of the entire ship or cruise. They oversee the operation of propulsion, fuel and waste systems. As ships are made of steel and ply on saltwater, they require proper maintenance and time-to-time inspection. So engineers need to be practical, resourceful and have a real interest in mechanical and electrical systems.
Following are the rankings held by Engineering Officers in descending order of seniority:
Chief / First engineer
2nd engineer / First assistant engineer
3rd engineer / Second assistant engineer
4th engineer / Thirst assistant engineer
5th engineer / Engine Cadet
Electrical officer (ETO)
Apart from the deck officers and marine engineers, there is a lot of requirement for ship crew members who act as supporting staff. They assist the officers and carry out the groundwork requiring both physical and hard labour.
The engine department personnel include:
Fitter
Motorman
Wiper
Trainee Fitter / Trainee Wiper
The saloon department is maintained and run by:
Steward
Trainee cook
Chief cook
Once you're promoted to the post of Senior Engineering Officer, you will be responsible for leading a team of professional engineering personnel at sea and port.
Eligibility Criteria:
Following are the eligibility criteria a candidate must have to pursue a career in the Merchant Navy:
A candidate must have passed 10+2 or an equivalent examination with physics, chemistry and maths with an aggregate score of 50 per cent or equivalent, from a recognised board.
They should also pass a medical fitness test for sea service under standard norms and with eyesight 6/6 with no colour blindness.
Courses in the Merchant Navy
In order to pursue a career in the merchant navy, one needs to opt for a bachelor's degree programme with a related specialisation. Candidates can opt for specialisation in BTech or B.E according to their choices. To work as a Deck Officer, a candidate will require a B.Sc in Nautical Science, which has a course duration of three or four years.
UG courses offered in both specialisations are:
Offshore Engineering
Naval Architecture and Ocean Engineering
Marine Engineering
Naval Engineering
After the completion of their bachelor's degree, candidates can take any of the two following roads:
First- They can immediately start working in the merchant navy at an entry-level post.
Second- Candidates can opt for an M.Tech or M.E. with a related specialisation to increase their chance of being recruited for a higher position automatically.
PG Courses offered in both the specialisations are:
Naval Engineering
Offshore Engineering
Marine Engineering
Dredger and Harbour Engineering
Merchant Navy Specialisations:
Apart from taking up UG and PG courses, a student interested in this career can also enrol in certain merchant navy specialisations available to enhance your skill sets. The duration along with the specialisation is given below-
GP Rating Course- 6 months
Saloon Rating Course- 6 months
Deck rating Course- 6 months
NCV Course- 6 months
Engine Rating Course- 6 months
Diploma in Nautical science- 1 year
STCW Basic Safety Training- 5 days
Electro-Technical Officer Course- 4 months
Commercial Diving Course- 6 months
General Purpose Rating Course- 6 months
Top Institutes and Colleges offering Merchant Navy Courses in India
Maharashtra Academy of Naval Education and Training (MANET)
Samundra Institute of Maritime Studies
Tolani Maritime Institute (TMI)
International Maritime Institute (IMI)
Vels Academy of Maritime Studies
B.P. Marine Academy
Coimbatore Marine College (CMC)
Institute of Technology and Marine Engineering (ITME)
Indian Maritime University (IMU)
TS Rahaman
Top Institutes and Colleges offering Merchant Navy Courses Abroad
Edith Cowan University
The University of Strathclyde
The University of New Orleans
Aarhus University, School of Marine and Technical Engineering
Griffith University
Hiroshima National College of Maritime Technology
British Columbia Institute of Technology
Australian Maritime College
Fleetwood Nautical College
Manukau Institute of Technology
Job Opportunities and Salary
As the world is gradually moving towards a consumer-driven society, import-export has increased manifold. Since most of the import-export is being carried out by shipping companies, there will always be a need for people in the merchant navy and hence the demand for merchant navy officers. The salary packages offered in the Merchant navy are quite attractive, ranging from INR 35,000 to 6,00,000 per month, of course depending on the job experience.
According to the statistics available from the Ministry of Shipping, the number of seafarers employed on Indian flag vessels increased from 22,103 in 2017 to 27,364 in 2018, while the employment figures on foreign ships went up from 60,194 to 72,327 during the same period. The number of Indians in the Merchant Navy had earlier gone up from 1,03,835 in 2013 to 1,26,945 in 2015.
So ready to sail towards a booming future?
Last updated on 24 Sep 2022
10:56 AM