Study in France
Study in France: Opportunities, Courses, Scholarships and more
Posted on 16 Sep 2022
12:26 PM
iStock
Summary
In France, there are more than 3,500 private and state institutions offering degrees and certifications
There are numerous scholarships available in France, making higher education more affordable
Sitting near the Eiffel Tower working on your college assignments and eating a croissant. Sounds dreamy? Well, it doesn't need to be a dream! French Foreign Minister Catherine Colonna, on her recent visit to India, said that the government in France was looking to increase the number of Indian students studying in France to 20,000 by the year 2025.
France is one of the most sought-after destinations for Indians to pursue higher education whether in fashion, business or art. If you are aspiring to become the next Marie Curie or Jean Luc Godard or Vera Wang then France is definitely the place for you!
But before you study in France and live your dreams, it is important to have an in-depth knowledge of the education system, cost of living, scholarships, etc. Read on to find more information…
Read: Top 5 reasons to study French
French Education System
In France, there are more than 3,500 private and state institutions offering degrees and certifications. Comparatively speaking, public universities are cheaper than private ones. International students can enrol in undergraduate, postgraduate, doctorate, diploma, and applied science programmes at French universities and colleges. Additionally, there are numerous diploma, applied science, and certification programmes available. These programmes typically last one to two years.
Typically, sessions start in September or October. Both English and French are used during instruction, which means that it is imperative that you learn basic French before you join the courses to get the best out of the course. International students who choose to enrol in English language courses must demonstrate their language skills through exams like the IELTS and TOEFL. With some of the world's highly esteemed colleges, France has one of the best-rated educational systems in the world. Many of them also offer distance learning and online courses to international students, though the experience is definitely not the same.
Know About: How to ace your IELTS Band Score
Study in France: Cost of Education
When it comes to studying abroad, France is a low-cost and highly sought-after place for Indian students. In fact, with the aid of fully-financed scholarship programmes, deserving Indian students can also receive a 100% tuition fee remission. The fee, however, varies according to the programme, university, and specialisation type, with public universities charging a fraction of what a private university would charge. The living costs also vary, based on which city you are living in. The college you apply to will be able to help you with ballpark figures that help you chalk out a budget and financial plan.
Check Out: 5 Tips to make your SOP stand out
Study in France: Scholarships for Indian students
There are numerous scholarships available in France, making higher education more affordable. France is well regarded for its quality education and academic infrastructure in addition to being a popular tourism destination. And these scholarships supporting bright foreign students' gives you an opportunity to experience it. Here are some of the popular scholarships available for Indian students.
Also Read: 6 Essential Tips to make the best of your study abroad experience
Study in France: Popular Courses
Due to its top-notch educational system, France is a favourite study abroad destination for international students. There are suitable undergraduate & postgraduate courses available for students with various backgrounds and expertise. Check out some of the most popular courses that students apply for, both undergraduate and postgraduate degrees.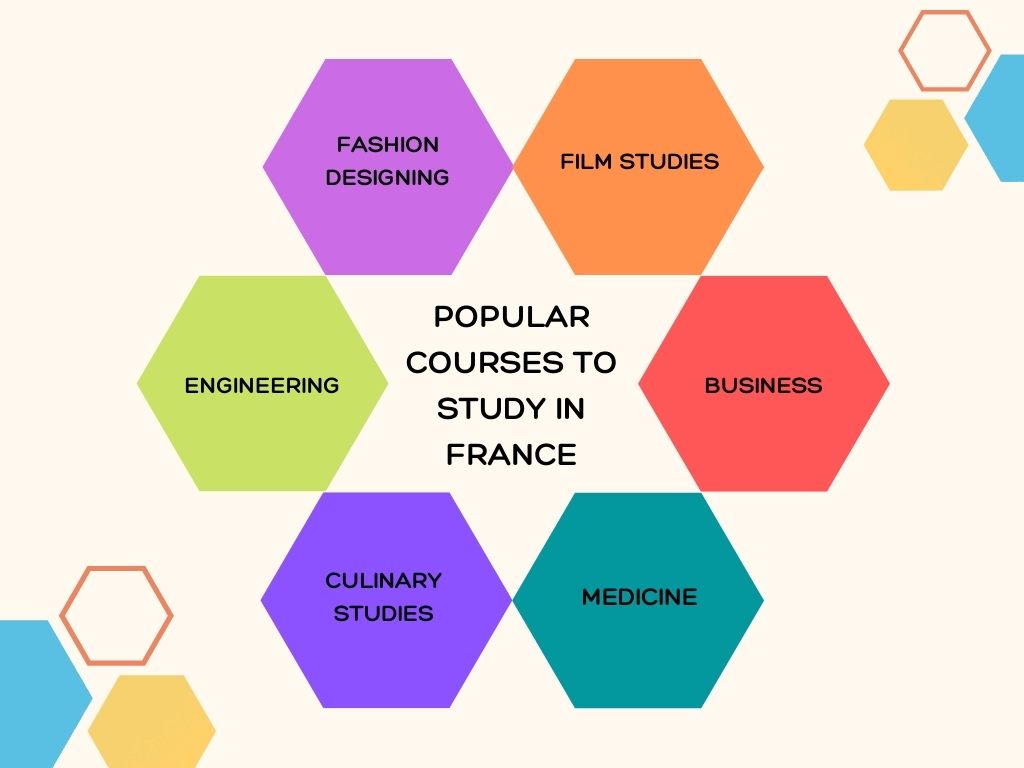 Popular Courses to Study in France Edugraph
Fashion Designing
Engineering
Culinary Studies
Medicine
Business
Film Studies
Read: A student's journey from Calcutta to the UK
Study in France: Top Institutes to Study
France has a wide variety of educational institutions where you can study, including universities, major Ecoles (schools) and business schools. Many of these rank among the top universities in Europe and the world. Check out the top 5 institutions to study in France.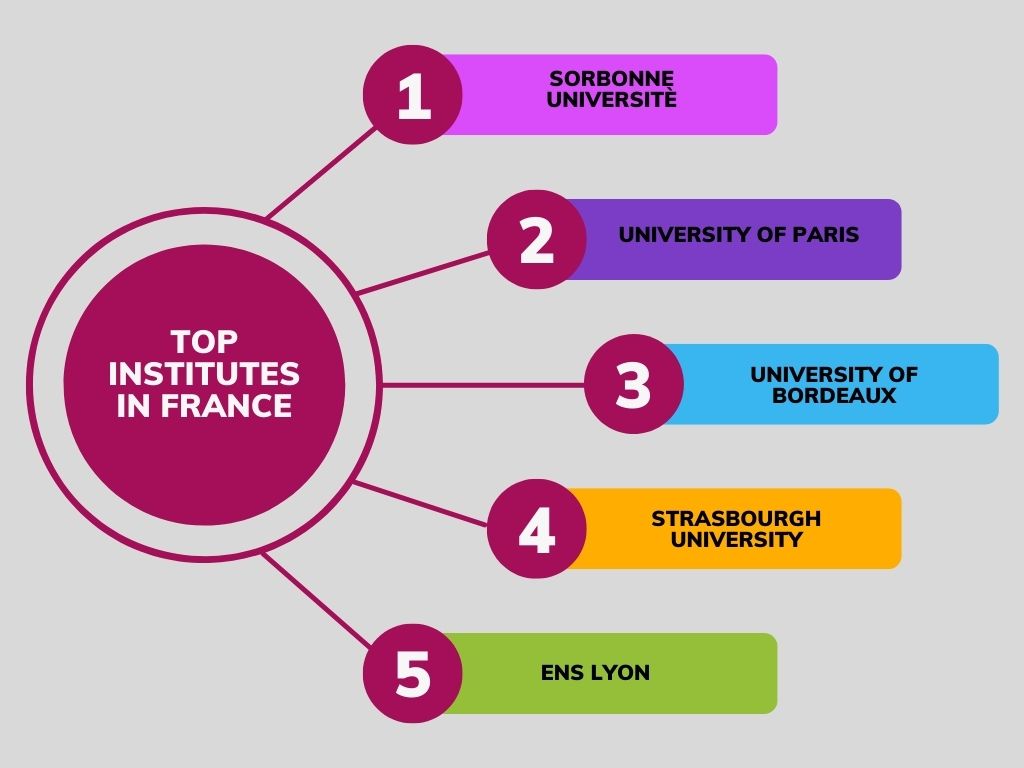 Top 5 Institutes in France Edugraph
Sorbonne Universitè
University of Paris
University of Bordeaux
Strasbourgh University
ENS Lyon
If you are willing to enrol in an undergraduate or postgraduate programme that offers - a chance to study under a better pedagogical system, a chance to learn a new language and explore a new place, and a chance to land a job overseas, and of course, a stint abroad - France might be just the option for you. And of course, with the government encouraging the intake of foreign students, your chances are only going to get better!
Last updated on 16 Sep 2022
12:26 PM