nursing
Career in Nursing: Courses, Colleges & Specialisation
Posted on 10 Sep 2022
11:24 AM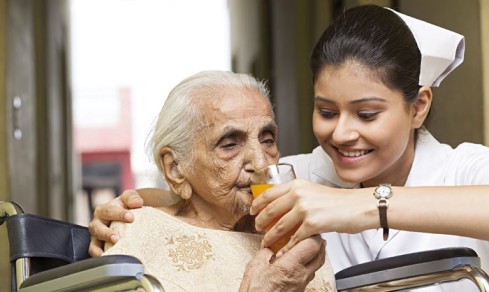 Indian Nursing Council
Summary
Nurses are the true caregivers, equipped with a knowledge of basic physiology that makes them the first line of response in case of medical emergencies
Candidates must pass an entrance exam to gain admission to a degree programme in nursing before becoming a nurse
Nursing is an art; and if it is to be made an art, it requires an exclusive devotion as hard a preparation as any painter's or sculptor's work ~ Florence Nightingale
Nursing has always been a popular career, especially since many are inspired by the selfless dedication of English nurse Florence Nightingale. This benevolent personality is also credited with founding the field of contemporary nursing. Nurses are the true caregivers, equipped with a knowledge of basic physiology that makes them the first line of response in case of medical emergencies.
Check out the top 3 reasons why you should begin your educational journey toward a career in nursing today listed below.
Making a difference: In India, unfortunately, in many areas, patients far outnumber the doctors available. In this circumstance, as a nurse, you make a much greater difference, by standing in for doctors and being the first line of support and treatment. From carrying out primary assessments when patients come in, to creating customised care plans, as well as supporting family members and patients, there is much you can do as a nurse.
Specialisation: Nursing is not restricted to caregiving and support anymore. With education and experience, you can work your way up to a specialisation, such as critical care. As a nurse working in a speciality, you have the opportunity to learn and expand your knowledge.
Increasing opportunities: With the changing perspectives in the healthcare industry and its development, there is an ever-increasing demand for specialised doctors, paramedics and nurses who are able to make the vision of a world-class healthcare system a reality.
Whichever be your personal reason, there is no doubt that nursing is a noble profession which will allow you to make a difference in the lives of hundreds of people…
List of Nursing Entrance Examinations
Candidates must pass an entrance exam to gain admission to a degree programme in nursing before becoming a nurse. The list of important entrance tests that aspiring nurses in India must pass are as follows:
National Eligibility cum Entrance Test (NEET) conducted by the National Testing Agency (NTA)
PGIMER Nursing exam conducted by Post Graduate Institute of Medical, Education and Research, Chandigarh
JIPMER Nursing exam conducted by Jawarharlal Institute of Postgraduate Medical Education & Research, Puducherry
AIIMS Nursing exam conducted by All India Institute of Medical Science, New Delhi
Indian Army Nursing Examination conducted by Directorate General of Medical Services (Indian Army)
Jamia Hamdard Nursing Exam conducted by Jamia Hamdard University, New Delhi
BHU Nursing Exam conducted by Banaras Hindu University, Varanasi
KGMU Nursing Exam by King George's Medical University, Lucknow
Read: All you need to know about NEET
Specialisations in Nursing
In India, a nursing graduate can choose to specialise in any of a number of areas, depending on their interest. Here is the list of specialisations that a B.Sc. in nursing degree holder can choose to pursue:
Critical Care Nursing
Cardiovascular and thoracic Nursing
Emergency Nursing
Operating Room Nursing
Pediatric Nursing
Pediatric Critical Care Nursing
Mental Health Nursing
Midwifery
Nursing Administration
These specialisations are available in the form of postgraduate diplomas and greatly enhance one's employability.
Check Out: Building a career in Biotechnology
Nursing Courses
Indian nursing education is accredited and recognised by the Indian Nursing Council (INC). In the discipline of nursing, there are numerous courses, including diploma, undergraduate, graduate and doctoral programmes. For specialisation and training, some private healthcare facilities and hospitals also provide certificate programmes that last between 6 months and a year.
The courses in the field of nursing are as the following:
Diploma courses
ANM (Auxiliary Nursing & Midwife) – 18 months
GNM (General Nursing & Midwife) – 3.5 yrs
UG Degree courses
B. Sc – Basic (Bachelor of Science in Nursing – Basic) – 4 yrs
B. Sc – Post Basic (Bachelor of Science in Nursing – Post Basic) – 2 yrs
B. Sc – Distance (Bachelor of Science in Nursing – Distance) – 3 yrs
PG Degree courses
M. Sc (Master of Science in Nursing) – 2 yrs
Doctoral courses
M. Phil (Master of Science in Nursing) – 1 yr (full-time)
M. Phil (Master of Science in Nursing) – 2 yr (part-time)
Ph D (Doctor in Philosophy) – 3 to 5 yrs
Know More: How To Study Biomedical Science
Top Colleges in India for Nursing
Nursing courses are available at the undergraduate and graduate levels at various colleges and universities. The authorities conduct nursing entrance exams for admission to institutions at the college/university, state, and national levels. Here is the list of the top 10 colleges in India for Nursing:
All India Insitute of Medical Science, New Delhi
Acharya Institute of Health Science, Bangalore
Christian Medical College, Vellore
Calcutta Medical College, Kolkata
Jawarharlal Institute of Postgraduate Medical Education & Research, Puducherry
Madras Medical College, Chennai
Jamia Hamdard University, New Delhi
King George's Medical University, Lucknow
Armed Forces Medical College, Pune
Kasturba Medical College, Mangalore
The future of nursing appears brighter than ever with the increased focus on healthcare. A growing number of hospitals, nursing homes, and other healthcare facilities are being built. There is also a constant need for nurses in the nation due to the continuous rise in the population and the need for better healthcare facilities. A career in nursing is something you should definitely think about if you enjoy helping those in need and are looking for a job that will be fulfilling, stimulating, exciting, respected, and have a significant impact on the world.
Last updated on 10 Sep 2022
11:24 AM