South Point School
Space technology and school honour
Posted on 27 Jul 2023
09:38 AM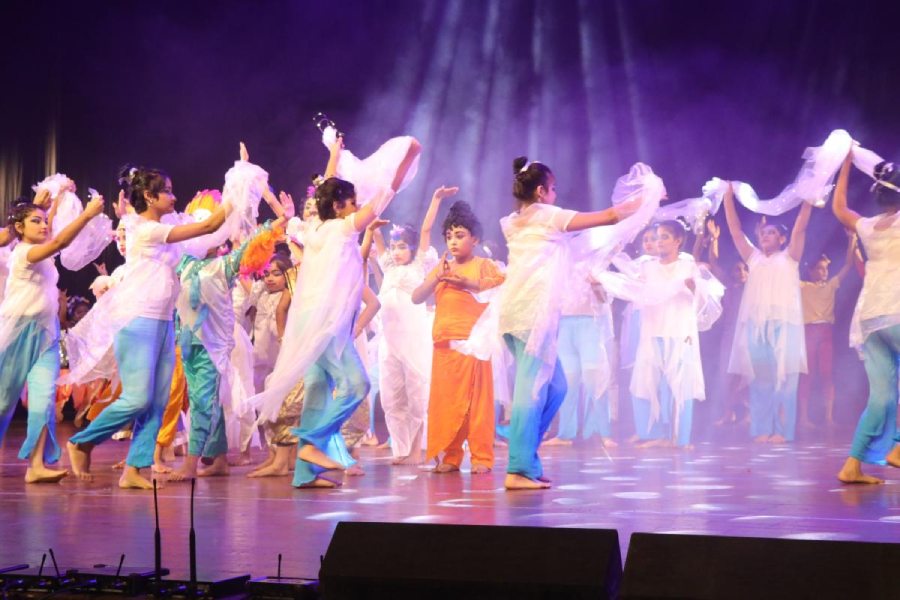 South Point
Summary
Teachers along with parents and fellow students witnessed great performances, learnt about issues of national importance, participated in prize distributing ceremony and volunteered for medical camp as well.
South Point
Prizes, performances and happy news — the annual prize day jointly organised by South Point School and South Point High School had all that and more. Hosted in the platinum jubilee year, after a gap of four years, at Science City auditorium, the event saw a footfall of over 2,000 students and their parents.
The chief guest of the event was scientist R.M. Vasagam, vice-president of Indian Technology Congress Association. Its secretary-general K. Gopalakrishnan was the guest of honour.
Amol Chandra Chakrabortti, senior chartered accountant and court-appointed joint administrator for the estate of Priyamvada Birla, informed all that the new Priyamvada Birla Campus of South Point is under construction at Mukundapur. The students will relocate by April 2025, he said.
South Point High School principal Rupa Sanyal Bhattacharjee spoke of the school's endeavour to give its students an early access to space technology by setting up a spacelab-cum-ground station.
The audience also gave a standing ovation to Judhajeet Ghosh of Class X, recipient of the Priyamvada Birla Bravehearts Award. Diagnosed with acute lymphoblastic leukaemia in 2018 — at the age of 11 — Judhajeet has taken all the struggles in his stride and done well academically.
Other academic achievers also received prizes, under the aegis of the M.P. Birla Smarak Kosh, as also the winners of the school Kalakosh.
More than 350 students of South Point School presented Ek Divya Udaan — The Eternal Quest, focusing on man's continuous strive for perfection and the lessons he learns from history.
The high school students presented Ray - A Drop of Golden Son, a tribute to the legendary film-maker Satyajit Ray. Characters penned by Ray came alive on stage.
"For South Point, July 4 is always special as prizes are given away to the most deserving and are not limited to academics. This year, it felt extra special as South Point is celebrating its 70th year. It was nostalgic to go back to the Science City Auditorium after four years. Our pupils staged two wonderful cultural shows," said the principal.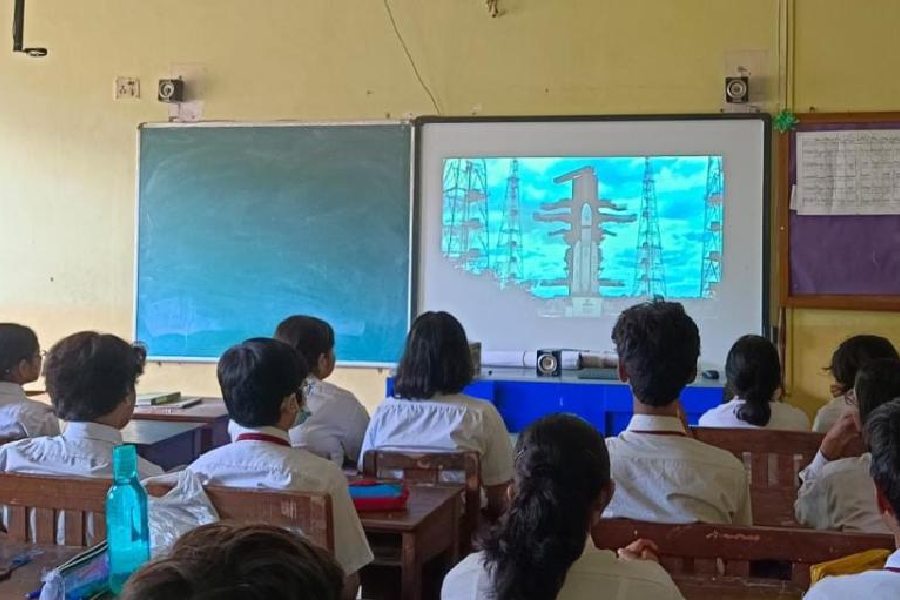 Bhavan's Gangabux Kanoria Vidyamandir
Bhavan's Gangabux Kanoria Vidyamandir
Students of Bhavan's Gangabux Kanoria Vidyamandir, Salt Lake, watched the historic launch of India's third Lunar Mission, Chandrayaan-3, together from their classroom smartboards on July 14 at 2.35pm.
The launch was undertaken by the Indian Space Research Organisation (Isro) at Sriharikota, Andhra Pradesh.
Students of Classes VI to XII enjoyed the experience immensely. The classroom-watching experience was aimed at building their interest towards space technology.
It was an exciting moment for the students and teachers as they kept their eyes glued to the screen of their smart boards since 2.15pm. One could feel the excitement mounting every minute. As Chandrayaan-3 took off, they cheered loudly.
Countdowns could be heard from other classrooms as the moment approached. Classrooms and corridors were filled with cheers, claps and cries of jubilation. The students spontaneously sang the national anthem.
"It was indeed a moment of great pride for every Indian when Chandrayaan-3 soared upward making its way towards the moon. Such a path-breaking initiative has instilled a scientific approach in the young minds, motivating them to bring about revolutionary innovations in the years to come," said principal Arun Dasgupta.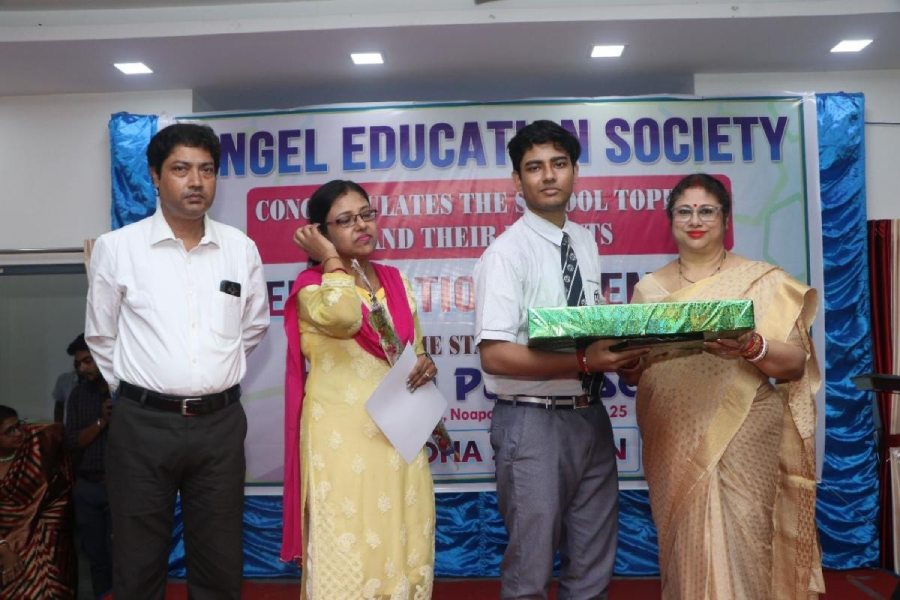 Kalyani Public School, Barasat
Kalyani Public School, Barasat
Kalyani Public School, Barasat, hosted a felicitation ceremony to honour toppers from Classes X and XII on June 30. The toppers of CBSE (Classes X and XII) were invited along with their parents.
The occasion was graced by Rudrabir Roy, chairman of Angel Education Society, Erina Roy its president, Akash Roy, its vice-president, Trisha Roy, CEO of Angel Education Society and Monami Trust, Ankit Roy, manager of Kalyani Public School, Barasat, Rupa Dey, its principal and others.
Rudrabir Roy said in his speech how education should be holistic that will enable children to be responsible citizens in future.
The felicitation started with a motivational speech by Rupa Dey.
The school topper Rishit Chatterjee from science was awarded a laptop. He secured 97.4 per cent in Class XII boards. Kaustuv Das got a tablet for 96.4 per cent. More than 40 students were given mobile phones and speakers for more than 90 per cent in Class XII.
Class X topper Erfan Ali who secured 98.2 per cent also received a tablet. More than 30 students who secured over 90 per cent were given tablets, mobile phones and speakers.
"The awards fill the students with a sense of achievement and motivate others to do better. I was, recently, talking to some ex-students who are now working or doing their higher studies. Many of them still use the gadgets, given by the school as if fills them with pride," said the principal.
St Luke's Day School, Naihati
St Luke's Day School, Naihati
Students of Classes XI and XII of St Luke's Day School, Naihati, volunteered at a free medical camp organised on their school grounds for the locals in the area.
The camp is an annual event organised by SKN Diabetes and Endocrine Center, Naihati, and Dr Suresh Chakraborty Memorial Trust (that runs St Luke's Day School) on July 2 every year. It is held to commemorate the death anniversary of Kanaklata Devi, who was the chairperson of Dr Suresh Chakraborty Memorial Foundation.
More than 250 people attended the camp that was also meant to educate the visitors about the importance of regular health check-up. Many came from far-off places for a follow-up. They were also given tips on how to stay healthy by making small lifestyle changes.
"I enjoyed helping out in the medical camp and assisting the visitors. It gave me a sense of fulfilment," said Spandan Chakraborty of Class XI.
Another student, Raghav Dutta, said he felt proud to be a part of this humanitarian activity. "I look forward to participating in more social work," he said.
"Prevention is better than cure. The camp was aimed at making people more aware of their health," said principal Sadhana Bhattacharya.
Last updated on 27 Jul 2023
09:38 AM