Tagore's untitled painting fetches Rs 4.7cr at Christie's auction
The poet and all things Bengali will be discussed in Britain this weekend; more than 50 organisations have come together for the UK Bengali Convention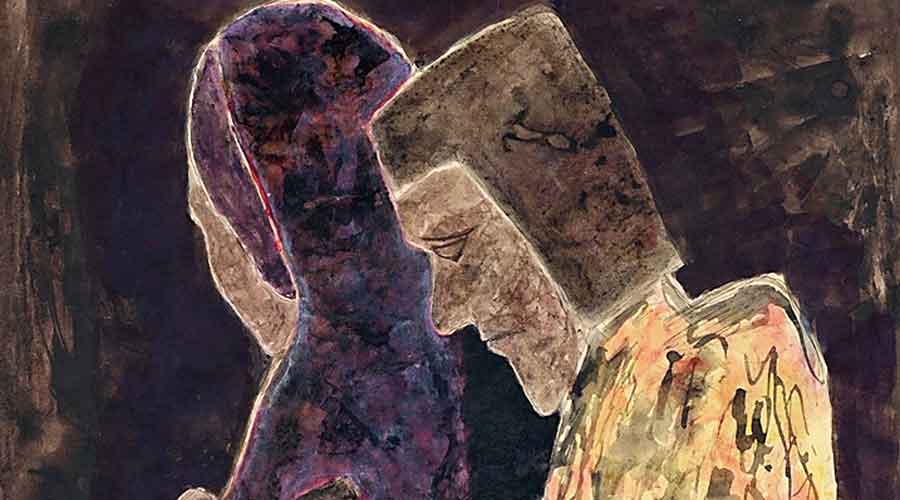 ---
London
|
Published 25.09.21, 12:53 AM
|
---
Rabindranath Tagore's untitled painting of a "couple" fetched a record $637,500 (Rs 4.7 crore) against an estimate of $120,000-$180,000 at a Christie's auction on Wednesday.
The work was bought by "an institution in Asia".
The price fetched is "a new global auction record for the artist", emphasised Nishad Avari, specialist head of sale and associate vice-president for Christie's in its South Asian Modern and Contemporary Art section.
"Works by Tagore are very rare to come by, particularly outside India, and this one is one of the finest to be offered at an auction in several years. The painting also had great provenance, drawing interest from private and institutional collectors around the world. We had several bidders competing for it on the phones. This was a live auction at Christie's in New York, part of the Asian Art Week here," he told The Telegraph.
The work, signed in Bengali, is mixed media on paper laid on card and measures 56.8cmx45.7cm.
Setting out some of the background, Avari said: "Untitled (couple), one of the largest paintings by Tagore to ever be offered at an auction, was painted circa 1930 and was one of a series of works, which Tagore sold in Europe to fund his travels across the continent.
"The present painting is rendered in Tagore's iconic flat, non-naturalistic or naive style, and depicts two figures in profile with the woman almost fully turned away from the viewer. Wonderful tones of purple and mauve shimmer from within the dark background, giving a vitality and dynamism to the image."
Avari added: "Tagore only turned to painting when he was in his 60s, and worked free of any formal training. This picture is therefore not about verisimilitude but instead acts as a vehicle for the artist to break away from the limitations of language. The two free flowing figures are the epitome of Tagore's belief that painting, unlike any other art form, was closer to nature and could be universally understood and shared."
He said: "This picture was acquired by Edith Andreae, born Rathenau, whom Tagore had met on his first visit to Germany in 1921. The Rathneau family were esteemed in Germany; Edith was the daughter of Emil Rathenau, a leading figure in the early European electrical industry, and the sister of Walter Rathenau, the liberal thinker and foreign secretary during the Weimar Republic, who was tragically assassinated in 1922 just after Tagore's first visit.
"A liberal intellectual, Edith was also a patron of the arts alongside her husband, and a great admirer of Tagore. The feeling was clearly mutual, as Tagore visited the Andreae family at their home in Berlin. Unfortunately, only a few years after Tagore's 1930 visit, Hitler came to power in Germany and he was not able to meet the family again."
Tagore and all things Bengali will be discussed in Britain this weekend. More than 50 organisations have come together for the UK Bengali Convention, which is being held in the Cambridgeshire village of Cambourne. Organisers said the programme is "a celebration of Bengali culture, language and heritage through music, dance, poetry, debate, discussions and food".