Denmark-HQed EPOS arrives in India
The company brings high-end audio solutions for the WFH crowd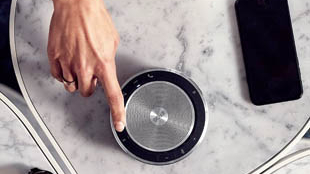 ---
---
Make no mistake: The work-from-home crowd is spending a great deal on audio solutions because bad audio can lead to "expensive problems". EPOS, which is a global player, has arrived in India. Part of Demant Group, Denmark, EPOS operates in more than 30 countries and has a respectable legacy when it comes to sound and innovation.
Soon after the company launched its Microsoft Teams-certified ADAPT range of headsets for office professionals on the go, we caught up with Seah Hong Kiat, vice-president, enterprise solutions APAC, EPOS, to learn more about what's in the offing.
The focus of EPOS is on office workers and gamers. What are some of the problems faced by these two segments and how are they being tackled?
Our 2020 Report, 'Understanding Sound Experiences', revealed the expensive pain points businesses are facing as a result of bad audio, which includes excessive background noise (42 per cent), having to repeat themselves (34 per cent) and asking for information to be repeated (34 per cent). Seventy-nine per cent of business decision makers we spoke to are aware that good audio equipment (including headsets, headphones, and speakerphones) can provide the solution. We thus develop and market products to meet this need; hardware that can directly address the productivity cost of poor audio quality in meetings and calls.
Walk us through the ADAPT and EXPAND ranges. How are they different?
The two ranges are specially designed keeping in mind the demand of today's workforce. They need versatile audio solutions that easily integrate with their devices, whether working at home, at the office or on the go, focusing more on the ability to multi-task. The ADAPT range and EXPAND 30T by EPOS caters to professionals looking for audio solutions that adapt to their busy lifestyle through versality. It offers an outstanding sound quality, that allows flawless communication in any environment.
What is your roadmap for India in way of launches?
Our aim is to continue our effort in development products and solutions relevant for our customers. Looking into 2021, EPOS new product launch plans are earmarked throughout 1H (first half); starting as early as Q1 2021.
How much Sennheiser is involved in EPOS and what kind of innovation does Sennheiser bring to the table? Do the two companies also compete?
EPOS Group A/S is a new company in the Demant Group, creating high-end audio solutions for businesses and gamers. Fully launched as EPOS in the beginning of 2020, the company was born from the decision to let the business segments of the joint venture (known as Sennheiser Communications) between Sennheiser electronic GmbH & Co. KG and Demant A/S evolve in different set-ups.
The demerger of Sennheiser Communications was a result of the two owners', Sennheiser electronic GmbH & Co. KG and Demant A/S, desire to focus on specific business segments. While the business segments of Enterprise Solutions and Gaming headsets evolved as an independent business as part of the Demant Group, the business segment of Mobile Music headsets is now part of the Sennheiser consumer business.