Rafick Sahabuddin, Sukhobrishti
In the 10 years that we have spent in Sukhobrishti, never did we imagine that a day's shower would turn the name of the housing complex into such a bitter irony.
We stay on the 14th floor of one of the 62 G+14 towers. Each tower has two lifts. Since Monday, not one of the 114 lifts is working here. That night, my wife was forced to climb up after undergoing hours of dialysis. We took it one floor at a time, rested for 10 minutes, and then climbed again. It was past 1am when she finally reached our top floor apartment.
As I speak (on Wednesday night), there is waist-high water at our main gate and knee-high water inside the complex.
An hour ago, we managed to start four pumps but there is little hope to drain out the water as the Bagjola Canal is overflowing. This morning, public health engineering department officials came but expressed helplessness as the canal lockgate is shut to prevent backflow from the Hooghly.
We are unable to drive out. Seven-eight cars that tried suffered breakdown. The totos that charged Rs 10 to take us to the main gate are demanding fancy rates. When we waded out to meet the PHE officials today, we tried to buy as much ration as we could, including for some neighbours who are unable go out. Food delivery boys are unable to come. Thankfully, the pharmacy inside our complex is still supplying medicines to those in dire need at their door steps.
The sanitation and drainage lines here are the same. A stench has already started emanating from the water.
The lift pits already have some water. We have piled mattresses in front of the ground floor lift but every passing car is creating a surge that is threatening to lash over our barrier.
The facility management has finally agreed to run three lifts for three families with critical patients. I hope the water subsides as my wife has another dialysis due tomorrow.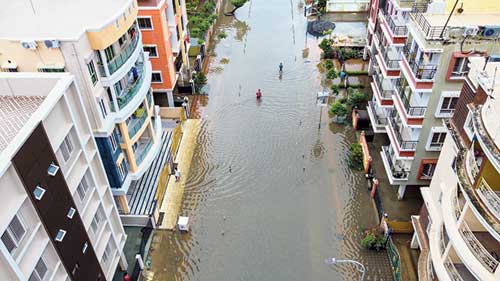 A drone's view of Street 165 in BC Block.
Picture courtesy Nairit Dutta Gupta
Rajat Suvra Roy, CE Block
What we went through: We woke up on Tuesday to a nightmare — our drawing and dining rooms was under six inches of dirty water (picture above). The Indian style commode we have on the ground floor had overflown and the stench of the sewage was overwhelming. A foot of water was flowing over our reservoir and the lift well was full of water. The tyres of my SUV were underwater too.
Situation now: On Wednesday, water receded. The whole day I spent running the pump to drain out the contaminated reservoir water.
Bishnupada Ghosh, BC Block
What we went through: I am 75 years old, with a replaced knee, and I had to run up and down the stairs multiple times to assess the waterlogging situation. Water had entered our underground reservoir as well as the lift vent.
My wife and I moved to New Town from Patuli only four months ago so we haven't met too many neighbours yet. We were alone and helpless! We didn't even have water to drink but NKDA, on request, came and gave us two 20l jars. We are grateful to them.
Situation now: On Wednesday water receded and we got workers to clean out the reservoir and repair the lift. My old neighbourhood Patuli would get flooded after rains too but it wouldn't take 26 hours to recede like this.
This week, my old neighbours and I spent time exchanging pictures of water-logging around us. Despite having moved into a smart city, I think it was I who had the scariest pictures to boast of.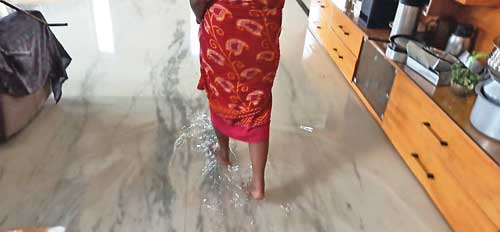 Saimantika Munshi, New Town DLF Heights
What we went through: On Monday, announcements were made in our complex asking us to take our cars out of the basement parking as it was fast filling with water. My son's governess, who lives in the slum nearby, has had to leave her house and move in with us. In her hut, she says, the water has nearly reached the top of her cupboard!
Situation now: On Wednesday, water in the basement had receded but outside our complex people were casting nets and fishing. I could see fish jumping in the water so I bet they were getting a good catch! I had to go for my vaccine on Wednesday and was shocked to see, in a lane opposite the Candor building, full-grown men swimming in water reaching upto the shoulders. I shared these pictures on social media and captioned them: When you can't go to Maldives, Maldives comes to you!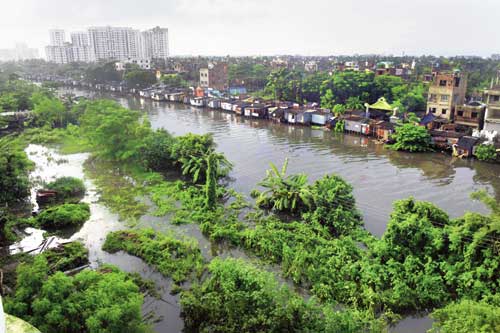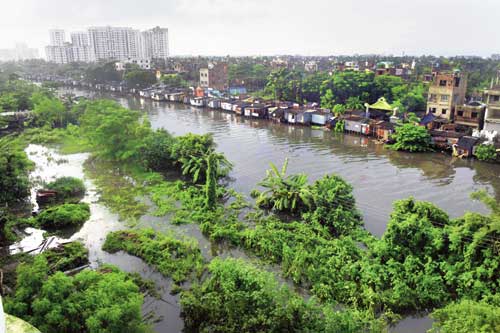 Hutments on poles encroach upon Bagjola Canal which has spilled over and inundated neighbouring New Town blocks.
Picture by Sanat Kumar Sinha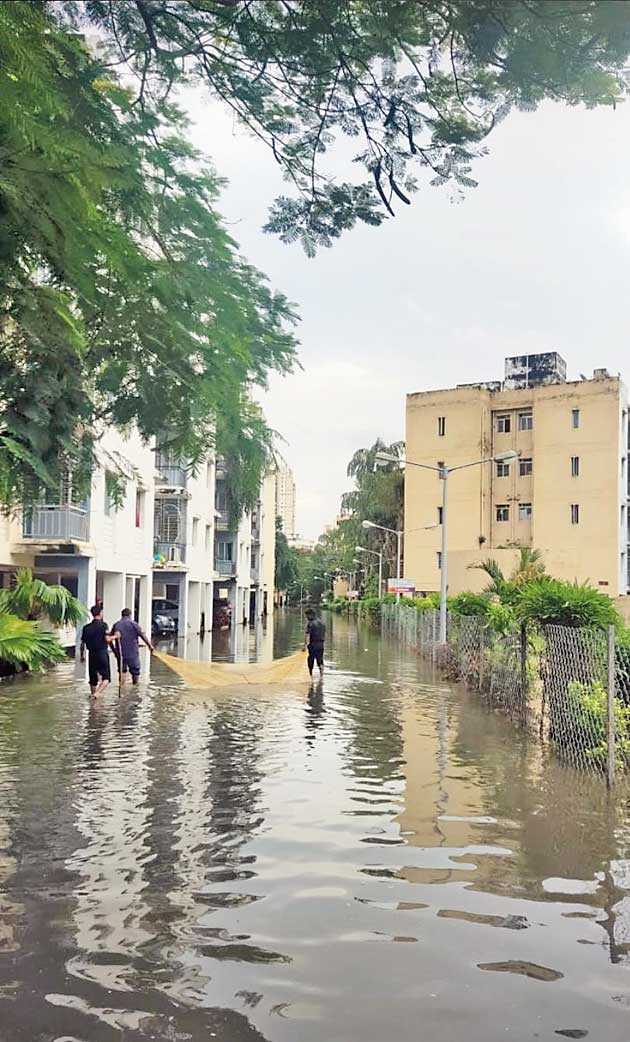 Net cast for fishing inside a flooded Sukhobristi on Wednesday
Janmejoy Deb, Animikha Apartment
What we went through: On Monday, the power utility board officials came and told us that if the water level rose another two or three inches, we would run the risk of electrocution. So we were forced to switch off our mains. Though we have a central generator, not everyone has taken a connection. Even those of us who had, were plunged in darkness as the generator had to be switched off after running non-stop till 3am. Dozens of cars in the basement parking have water inside. There is water in the elevator pits. Though it did not rain on Tuesday, still there was water on the main road in front of DLF IT Park in the afternoon. In fact, water started rising at one point.
Situation now: Things are much better but we are worried about the forecast of rain this weekend.