A drive to provide new saris to underprivileged women for the Puja, which started at the height of the pandemic last year, promises to be bigger in its second avatar.
Collections for the campaign called "One New Cotton Sari" have resumed over a week ago, generating significant traction on social media.
"We have already got over 120 saris. Many people are calling us up every day to enquire about the logistics. We hope to do better than last year," said Syed Md Sabbir, the coordinator of the campaign organised by Humans of Patuli, an organisation that works for communal harmony and had campaigned extensively against the new citizenship matrix.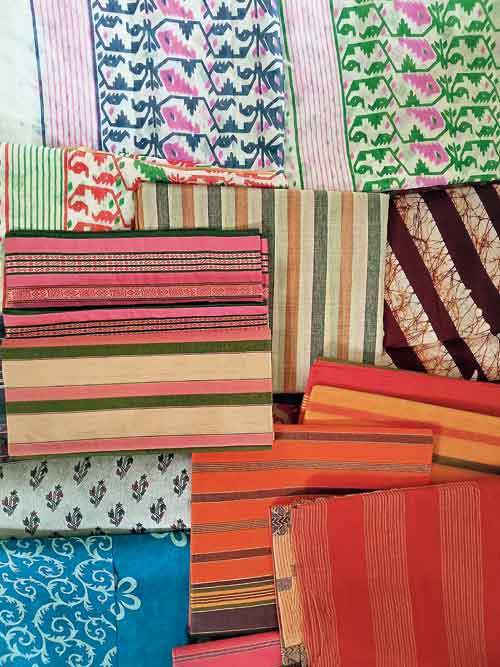 New saris received this year
Telegraph picture
Last year, over 900 new saris were given to women living in slums in and around Patuli, off EM Bypass on the southeastern fringes of Kolkata. Many of them are domestic workers. Their male family members are mostly day labourers, rickshaw-pullers and masons.
Many of the donors this year are repeat donors. One of them is Rajsuvro Adhikary, 18. Last year, the student of BDM International School had given his scholarship grant of Rs 2,000 to his parents to buy two new saris for the drive.
"Helping needy people should be the norm, not something exceptional. I don't think I have done something special," Rajsuvro told this newspaper.
He has already given money to his mother to buy saris for the campaign this year, from another scholarship. "He gets Rs 1,250 every month under the Jagadis Bose National Science Talent Search scheme. He has given this month's amount to his mother," said Rajendra Nath Adhikary, his father.
Shreyashi Chaudhuri, 41, a lecturer of history in South Calcutta Girls' College, is a first-time donor. The organisers collected two saris from her Lake Gardens home.
"I came to know about the drive through Facebook. What they have done is commendable. Their attention to detail shows their dedication to the cause," she said.
To drop off a sari, calls can be made to 9051118426 (Sabbir), 9163736863 (Kasturi), 8910832639 (Sabyasachi), 7980949052 (Sudeshna) and 9836302826 (Utsarjana).
September 30 is the last date for donating saris.