Samadarshi Dutta's Gangulys Wed Guhas, a new web series which streams from today on KLIKK, tells the story of Guhas who live at Ballygunge Place and are drastically different from the Gangulys who live in their old Nilmoni Mitra Lane house as a joint family. The Guhas are the "artsy" Bengali family while the Gangulys are an old north Calcutta "bonedi" family that still prides themselves on their collection of antique furniture. However, the two families end up in the same place and in the same biye bari. A chat with Samadarshi....
What is the genesis of Gangulys Wed Guhas?
As a child, I was intrigued by marriage ceremonies and rituals of different cultures all across the globe. Though I was fortunate enough to attend some varied ceremonies due to my upbringing and education. I had this idea while in film school training as an actor. It went into hibernation for sometime... however, once I decided to direct, this was one of the first ideas I had put pen to paper. Luckily for me it's my first release.
Why turn to direction with this?
I'd always wanted to be an actor. It's while working with Rituda (Rituparno Ghosh) on Rabindranath Tagore's documentary that he politely told me that I'd make a good director someday. The idea stuck with me and now it's a reality. You can say this is my ode to Rituparno Ghosh. I can only say now... thank you Rituda.
How was your shooting experience?
The shooting was absolutely hectic. It was one hell of a ride. It was like nine days... 20 actors... seven episodes... It wouldn't have been possible without the entire KLIKK family and my team. It's as much theirs as mine. It was even crazier, since I had to work as an actor by compulsion due to last-minute changes.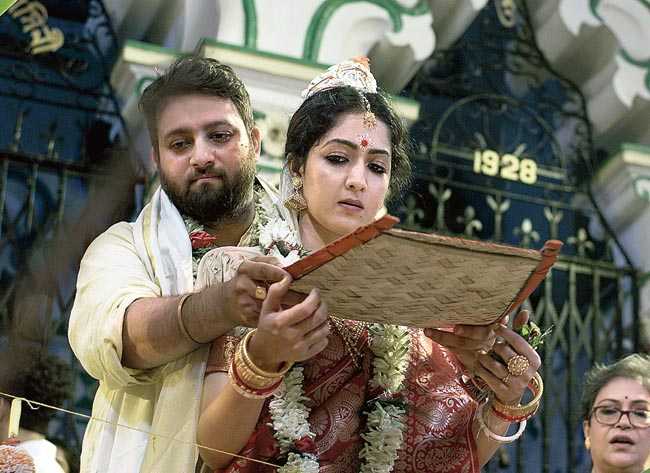 What kind of challenges did you face to direct this?
It was a different experience as I'd always been an actor prior to this. Since I'd been on a set of quite a few films, I'd try to learn what not to do as a director. It's man management at the end of the day. If your script is in place then everything becomes easy.
What were the lessons learnt as a director?
The first lesson is to be as tolerant as possible. You have to deal with many things at any given point in time. You just have to make smart choices and decisions. Some would work and some wouldn't. You just have to makes amends and carry on.
Who are your favourite directors?
It's impossible to name a few as the list is endless. I'm in awe of Guru Dutt and Giuseppe Tornatore among others.
What are you trying to say through this series?
I'm just trying to entertain the audience with this series. I don't have anything profound to say. The only thing which I'd wanted to do is to make something that can be watched with everyone together. I'd only request viewers to watch this series together.
How was the experience of directing yourself?!
Honestly, messed up and quite tricky. You lose objectivity when you do both at the same time. I have just tried to balance both with utmost honesty. Amit (associate director) steered me through in such junctures. The screenplay and dialogues have been written by Aritra Sengupta. The story was mine. This series has been produced under my production banner named Orange and Yellow Films.
Why did you decide to form your production company? Why this title?
There is an interesting anecdote to this whole naming. Initially I had thought of naming my company something else, but somehow it got stuck and wasn't coming through for almost three months due to some unknown and weird reason. I'm a huge fan of Wes Anderson and Ozu, and love the use of colours in their films. It was just a random pick and it came through without even a blink.