Music is something that feeds on inspiration. Although it may not be direct, lyrics and melodies originate in experiences and situations. Keeping this in mind, Ladies Study Group (LSG) hosted the session 'Melody In Life with Shantanu Moitra' on September 7. The man responsible for soundtracks like Parineeta, 3 Idiots and Pink, to name a few, discussed his purpose of working with folk musicians and the two women who have inspired his journey.
Rukma Bai, Jaisalmer, 2001
Exactly 20 years ago, Shantanu Moitra had finished an album called Ab Ke Sawan with Shubha Mudgal and activist Mallika Dutt had approached him with a concept for a new album. She was working for Food Foundation and mentioned that she wanted to make an album about women's dreams and aspirations, and highlight stories dealing with abuse and domestic violence. Moitra said he didn't know much about the topic but "my instinct told me that the stories behind what she was looking for can't lie in music". This started his search for Rukma Bai.
Rukma Bai was a folk vocalist from Rajasthan and Moitra wanted to record her voice in the desert. She was in Jaisalmer and even after three days, Moitra couldn't find her. "Given her stature, I expected a home or an address," he said. Finally, a chaiwallah offered him a lead by saying that he would find her at a place one and a half hours from Jaisalmer... in Barmer. "He asked me to look out from the window of my car and when I spotted tents, that is where I would find her. Tents?"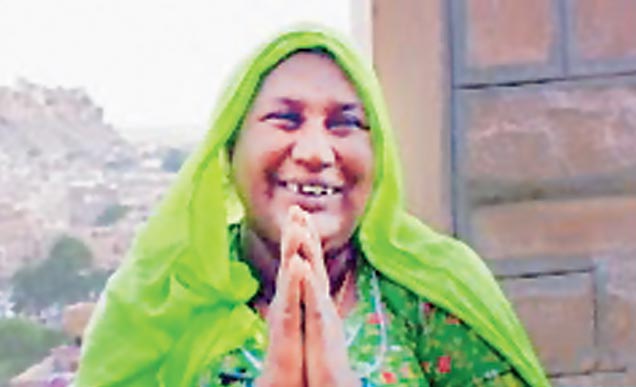 Rukma Bai
On a hot afternoon, he did eventually find her. She was sitting on the ground, playing with (maybe) her grandchild. "Dark face, wrinkled with life and experiences, chewing tobacco... spitting away with fire," he described her. Moitra introduced himself and said he wanted to record with her. Being difficult she said: "Main gana wana nahi gati." But Moitra had come all the way.
Moments later her behaviour changed when she offered him water and said that no one wanted to sing in these horrible conditions and told Moitra to stay with him. "She was trying to challenge me. My instincts said 'stay' but rationality said 'go'." But it was only after staying back did he learn more about her, like how her son works as a labourer and this made her move every two months. She had no "home".
What shocked Moitra even more the next morning was that Rukma Bai had lost her legs and was a victim of polio. She moved on rollers. "But her attitude was that of a rockstar. None of this mattered to her," he said. Getting ready to drive to the sand dunes to record her voice, Rukma Bai happily got ready in a new sari and they were off. For five hours the two recorded and she sang Moitra's favourite, Kesariya balam, and also created a bond of trust.
Rukma Bai was a member of Manganiyar, a musical Muslim tribe from Rajasthan. In their society, women are not allowed to sing unless they are a part of the tribe. Unfortunately for her, her husband had married her sister and by law Rukma Bai became an outcast, so she could not sing anymore. "Mann Ke Manjeere (album) became a potent album with her voice. The album is about situations women face in India. But there was not an iota of sadness in her," he said... until he offered her money. An upset Rukma Bai explained how she stays alive by living in the present and how the next day's survival was to be worried about tomorrow.
Before Moitra left, Rukma Bai had asked him to tell her friends about her whereabouts. "Who friends?" he thought. She then pulled out a picture on which it was written: "Dear Rukma, not only are you an amazing singer but a life-teacher with an amazing heart. Thank you for enriching us with your life." The picture was signed by Sophia Loren, Eric Clapton and John Mclaughlin, who were also in the same picture.
Although Moitra and Rukma Bai tried to keep in touch, the last news he got of her was a few years ago when she passed away.
Nani, Arunachal Pradesh, 2016
Wanting to take a break from Bollywood, Shantanu Moitra had gone backpacking for 100 days across the Himalayas, with his friend and photographer Dhritiman Mukherjee. During their journey they bumped into Nani in Arunachal Pradesh, a 30-something who loved to party, have fun and dance to Bollywood songs with her dance group.
As a younger person, her dream was to have 10 kids of her own. After she conceived the first time she fed her entire village as she loved children. She then unfortunately suffered a miscarriage but took it bravely and conceived again after a few more months. That also ended in a miscarriage and after the third time, the doctor warned her about the risk she was putting herself in. She had her third miscarriage.
"Disappointed and angry with God, she cut herself off from people," said Moitra. It was about a month later when she heard a child crying outside her home as he was facing abuse. She went out to save him and told his family that he would be with her till dinner. One day became a few months and the kid started staying with Nani.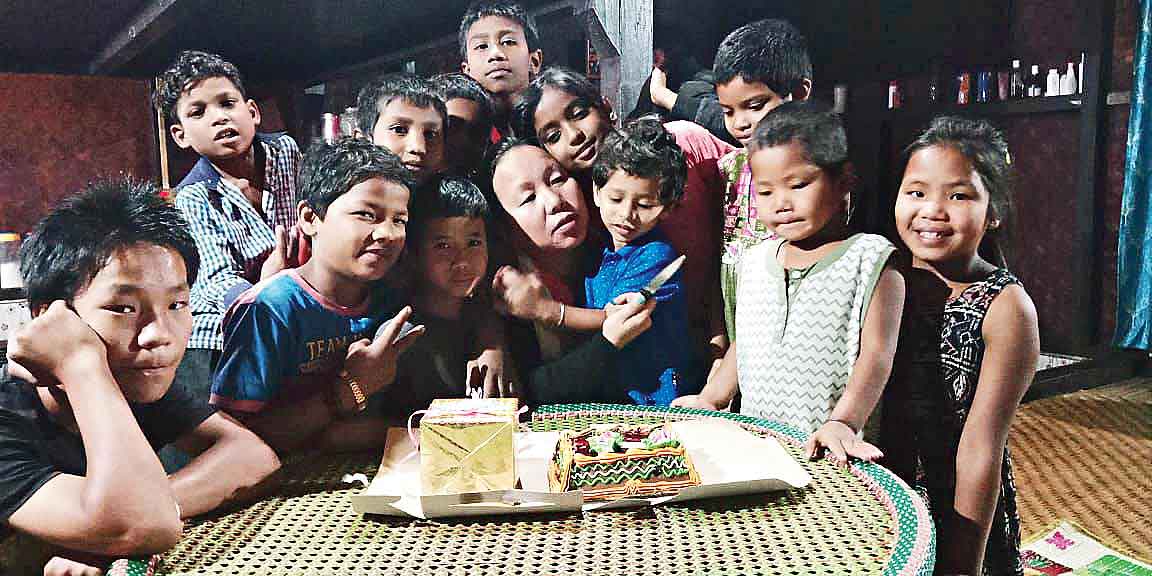 Nani Maria with her kids
As the word spread, she got wind of another such child, who was facing similar conditions in another village. She went on to adopt that child as well. As word spread even further, more children came under her care and the villagers built a big room for her, with beds and a school. "By the time I had met Nani she was already taking care of 100 children," said Moitra.
She had told him that they stayed till Class VIII, after which they went to cities or back to their parents. "I can never be there when they leave because it is painful," she said. "The day I visited, a cadet from her school got commissioned and came to pay his respects to Nani." Nani also mentioned that she was angry with God when her dream of 10 kids did not come true but God had bigger dreams for her. Her positivity, faith and purpose had pulled her out of her depression to build a school and hostel with teachers. "I had also seen 40 of her students stand in line, singing Give Me Some Sunshine. I started to cry because these abused kids gave a new meaning to the song," he said.
Before signing off, Moitra ended his session by saying that people deal with many situations that are not ideal. Each of them has taught him what life is about and it is his job to put some music into it and share it with all of us.
"While we may have the desire to adapt to an eco-friendly lifestyle, Shantanu is setting an example for all of us to follow and through his fans, making a real impact for a better planet. He is embarking on an epic cycling expedition from Gangotri to Ganga Sagar on October 1, discovering stories and paying tribute to Covid victims at Sagar." — Sumita Roy, president, Ladies Study Group, Kolkata