Odisha extends lockdown till April 30, urges Centre to stop train, flights services
Cases climb to 5,865, death toll now 169; no need to panic over PPE availability, says health ministry; Karnataka govt to decide on lockdown exit strategy by April 13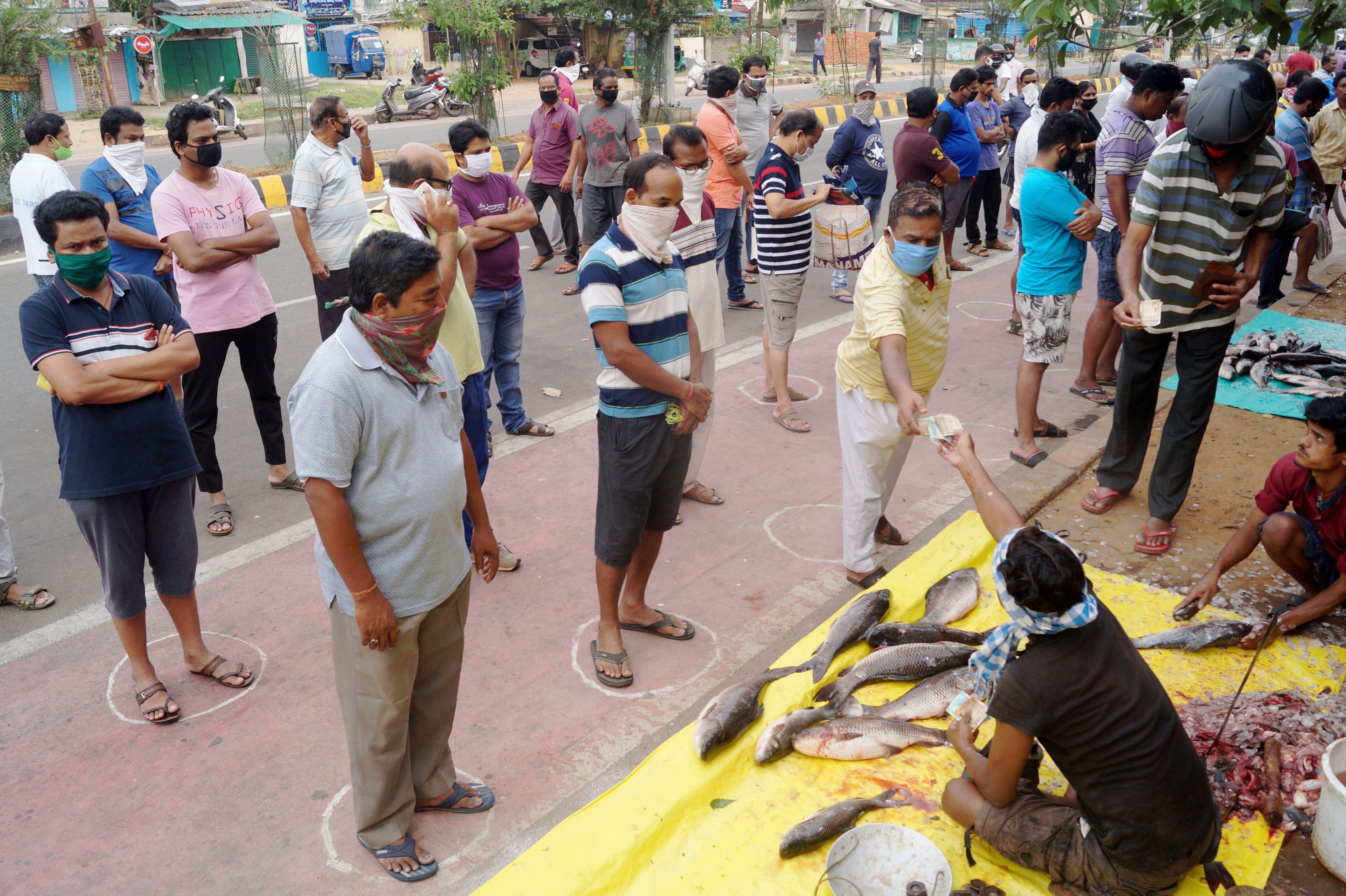 ---
New Delhi
|
Published 09.04.20, 07:15 AM
|
---
The Odisha government on Thursday decided to extend the ongoing lockdown in the state till April 30 to effectively contain the spread of coronavirus.
Schools and other educational institutions will remain closed till June 17, chief minister Naveen Patnaik announced after a video conference with his ministers.
'We have decided to extend the lockdown period till April 30 and a recommendation in this regard will be sent to the Centre,' he said in a video message.
Odisha Cabinet headed by CM @Naveen_Odisha decided to extend the state lockdown till April 30th & recommended Union Government to extend the national lockdown till then. CM requested the GoI not to start train & air services during the lockdown. #OdishaFightsCorona pic.twitter.com/2hjTGqR0y6

— CMO Odisha (@CMO_Odisha) April 9, 2020
Patnaik said the state has also urged the Centre to stop train and flight services to Odisha till April 30.
Odisha has recorded 44 positive cases of coronavirus so far.
The nationwide lockdown was declared by Prime Minister Narendra Modi on March 24 to break the chain of coronavirus transmission and it was scheduled to be lifted on April 15.
No need to panic over PPE availability: health ministry
The Union health ministry on Thursday said there is no need to panic over the availability of Covid-19 personal protective equipment (PPE), but stressed these should be used rationally.

Joint secretary at the health ministry Lav Agarwal said at the daily briefing that 20 companies are manufacturing PPE in India and orders for 1.7 crore PPE have already been placed with them.
Since Wednesday, 540 cases of the coronavirus infection and 17 deaths due to it have been reported, he said.
According to Union Health Ministry, Covid-19 death toll rises to 169, no. of cases climbs to 5,865.
According to an ICMR official, 1,30,000 samples have been tested for Covid-19 so far in country.
'No need to believe any rumour or have any fear regarding PPE. Our guidelines state that not only PPE should be made available, but they should be used rationally,' Agarwal said
'It (PPE) should be used as per requirement, and as I have told you, I can use four N95 masks within a day, or I can use just one within a day. While the central government is augmenting supplies to the states, we are also requesting them to use them rationally,' he said.
Orders for 49,000 ventilators have been placed and their supply is underway, Agarwal said and informed that 10 teams of Covid-19 specialists have been sent to nines states.
The official also said that the Indian Railways has produced about 6 lakh reusable face masks and over 4,000 litres of hand sanitiser.
It has also converted 3,250 coaches into Covid-19 isolation units with beds. Total 5,000 coaches are to be converted, Agarwal said.
The number of active Covid-19 cases is 5,095, as many as 472 people were cured and discharged and one had migrated, it said.

As many as 17 new deaths have been reported in the last 24 hours across the country, the ministry said.
Eight deaths were reported from Maharashtra, three from Gujarat, two from Jammu and Kashmir and one each from Punjab, Uttar Pradesh, Karnataka and Tamil Nadu, it said.
Maharashtra has reported the most coronavirus deaths at 72, followed by Gujarat at 16, Madhya Pradesh at 13 and Delhi at 9. Punjab and Tamil Nadu have reported eight fatalities each while Telengana has reported seven deaths.
West Bengal and Karnataka have registered five deaths each. Andhra Pradesh, Jammu and Kashmir and Uttar Pradesh have reported four deaths each while Haryana and Rajasthan have recorded three deaths each.
Two deaths have been reported from Kerala. Bihar, Himachal Pradesh and Odisha reported one fatality each, according to the health ministry data.
The death toll on Wednesday evening was 149.
However, a PTI tally of figures reported by various states as on Wednesday late evening showed at least 181 deaths.
There has been a lag in the Union health ministry figures, compared to the number of deaths announced by different states, which officials attribute to procedural delays in assigning the cases to individual states.
According to the ministry's data updated at 8am, the highest number of confirmed cases in the country are from Maharashtra at 1,135, followed by Tamil Nadu at 738 and Delhi at 669 cases.
The cases have risen to 427 in Telengana, while Rajasthan has 430 cases.
Uttar Pradesh has 410, while Andhra Pradesh reported 348 coronavirus cases. Kerala has reported 345 Covid-19 cases so far.
Novel coronavirus cases have risen to 229 in Madhya Pradesh, 181 in Karnataka and 179 in Gujarat.
Jammu and Kashmir has 158 cases, Haryana 147, West Bengal 103 and Punjab 101. Odisha has reported 42 coronavirus cases.
Thirty-eight people were infected with the virus in Bihar, while Uttarakhand has 33 patients and Assam 28.
Chandigarh and Himachal Pradesh have 18 cases each, while Ladakh has 14 positive patients so far.
Eleven cases have been reported from the Andaman and Nicobar Islands, while 10 were reported from Chhattisgarh.
Goa has reported seven Covid-19 cases, followed by Puducherry at five.
Jharkhand has reported four cases (as per the ministry's update at 8am), while Manipur, Tripura, Mizoram and Arunachal Pradesh have reported one case each.
'State-wise distribution is subject to further verification and reconciliation,' the ministry said on its website.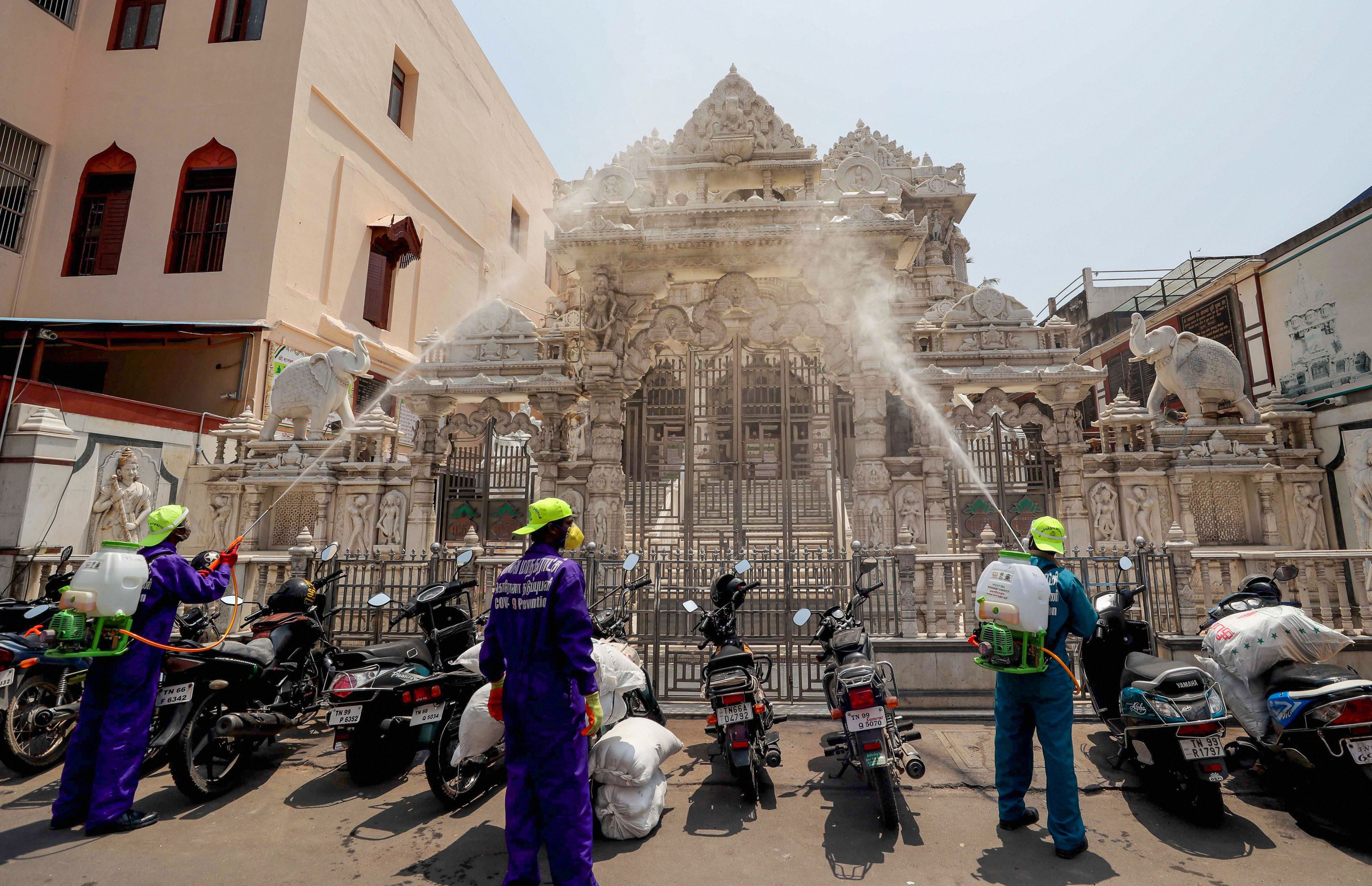 12 more test positive in Bengal
Twelve more people tested positive for COVID-19 in West Bengal, taking the total number of active cases in the state to 80, West Bengal Chief Minister Mamata Banerjee said here on Thursday.
Banerjee, who chaired a review meeting at Nabanna, the state secretariat, also said that three more persons have been discharged from hospital following recovery.
'Yesterday, the total number of active cases stood at 71. Today, three persons were released but 12 fresh cases were reported. The total number of active cases now stands at 80 in Bengal,' Banerjee said.
So far, 104 people have tested positive for novel coronavirus in West Bengal. Of them five have died, and 19 recovered from the disease.
One more dies in Rajasthan, tally 7
A 76-year-old man, who had tested positive for coronavirus, died in Jodhpur and 47 new cases emerged in Rajasthan on Thursday, taking the total number of positive cases of COVID-19 to 430 in the state.
The 76-year-old man was identified during a survey in Jodhpur, ACS (Medical and Health) Rohit Kumar Singh said.
With this, the death toll due to novel coronavirus rose to seven in the state.
Singh said 47 more people, including a doctor from Jodhpur who was engaged in a door-to-door survey, tested positive for coronavirus in Rajasthan.
Of the new 47 cases, 11 are from Jaipur, seven each in Tonk, Jhalawar and Jhunjhunu, five in Jaisalmer, three in Jodhpur, two in Banswara and one in Barmer, the ACS said.
Four of the 1,036 people, who were evacuated from Iran, also tested positive for coronavirus, he said, adding that a total of 40 evacuees have contracted the virus so far.
These four people are included in the list of 47 patients tested positive in the state till 2 am on Thursday, Singh added.
BJP launches state-level helpline in Karnataka
The state-level helpline set up by the BJP Karnataka unit to tackle the COVID-19 crisis was inaugurated here Thursday by party state president and Dakshina Kannada MP Nalin Kumar Kateel.
Kateel said the helpline number - 08068324040 - will be the same for the entire state.
The helpline can also be contacted through WhatsApp number 8722557733.
People can contact these numbers for all their requirements including food and emergency service.
The helpline was inaugurated at a function held at the party office here with a few office-bearers in attendance.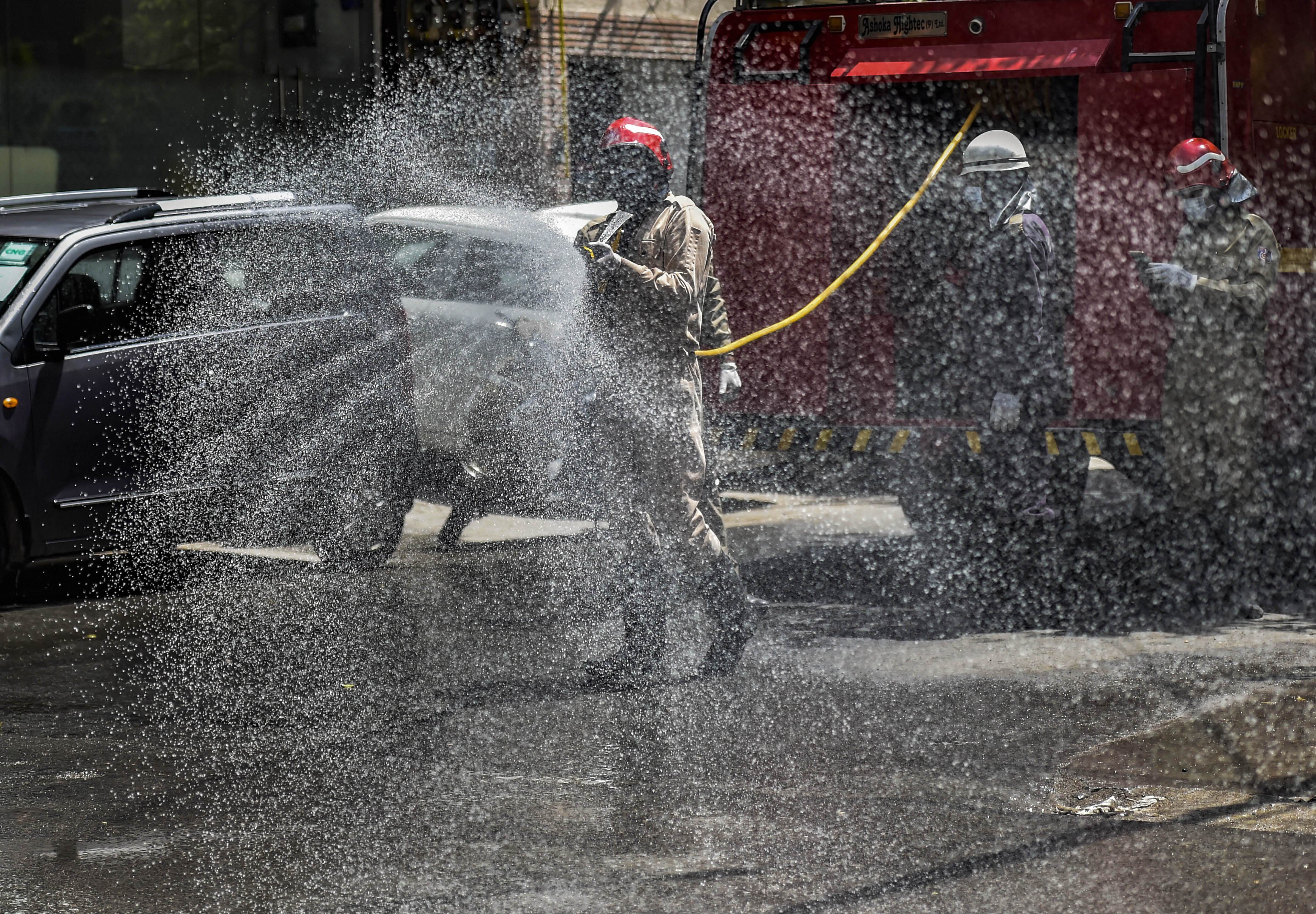 Bombay HC starts live steaming case hearings
In view of the lockdown due to the coronavirus outbreak, the Bombay High Court for the first time on Thursday live streamed case hearings being conducted via video conference to allow public access to the proceedings.
Justice Gautam Patel heard nine matters listed before him and over 450 people, including lawyers, petitioners and government officials, participated in the proceedings.
The video conference was held via Zoom app.
The high court has been working on a reduced staff following outbreak of the coronavirus pandemic.
Apart from the Bombay High Court, the high court of Kerala is conducting court hearings via video conference and live streaming it.
After finishing the court proceedings, Justice Patel said in the present situation everyone, including the judiciary, and lawyers will have to improve their skill sets on how to conduct hearings digitally.
'We are operating with skeletal staff. We cannot achieve social distancing and still expect courts to work normally, he said.
NIIT launches free course to facilitate remote working

Skills and talent development company NIIT Ltd on Thursday said it has specially designed and launched a 'Remote Work Excellence Kit' course to support the fight against Covid-19 crisis.
Aimed at helping facilitate remote working for adults, the Remote Work Excellence Kit is suited for corporate executives, small and medium businesspersons, and management students, a statement said.
The online course covers areas such as how to set up a remote office, establishing a remote presence, setting up and running virtual meetings, time management while working from home, remote business etiquettes, and also best practices, it added.
'It is abundantly clear that the COVID-19 pandemic not only poses a massive health challenge, it will also lead to economic slowdown and a change in how businesses are conducted worldwide, NIIT Ltd vice-chairman and managing director Vijay Thadani said.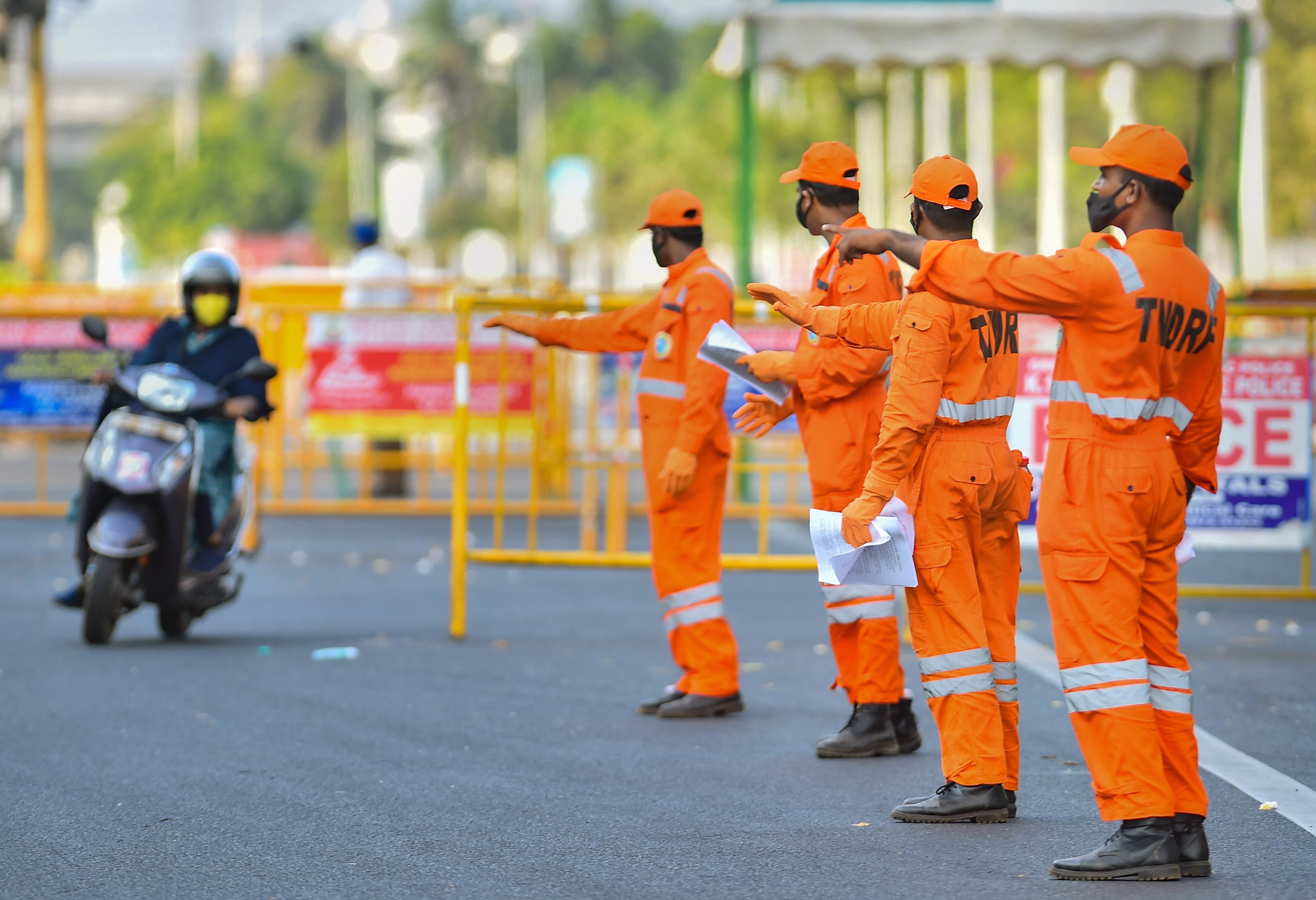 Karnataka ministers, MPs to take 30% pay cut
Ministers and Members of Legislature in Karnataka will take a 30 per cent cut each in their salaries and allowances to fund the fight against coronavirus in the state, for a year.
An ordinance to reduce the salaries of ministers and legislators by 30 per cent for one year to meet the exigencies arising out of Covid-19 pandemic was approved by the state cabinet headed by chief minister B. S. Yediyurappa on Thursday.
'... we have cut by 30 per cent salaries and allowances of all Ministers, MLAs, MLCs, also Speaker, deputy speaker, chief whip every one for one year from April 1, amounting to Rs 15.36 crore,' law and parliamentary affairs minister J. C. Madhuswamy said.
Speaking to reporters after the cabinet meeting, he said, we have the consent from all the political parties for this, so we have passed the ordinance today.
The Union cabinet on Monday had approved a 30 per cent cut in salaries of all Members of Parliament and a two-year suspension of the MP Local Area Development (MPLAD) scheme.
Karnataka govt to decide on lockdown exit strategy by April 13
The Karnataka government is currently engaged in discussions with experts, specialists and other stakeholders to decide on its lockdown exit strategy and would take a final view by April 13, a key minister said on Thursday.
'Day after tomorrow we have a VC (videoconference) with the Prime Minister,' medical education minister Sudhakar K., who is in-charge of all matters related to Covid-19, noted when asked about the States strategy.
He said a task force of specialist doctors on Wednesday submitted its report to the government, giving its recommendations.
'We are meeting lot of stakeholders of the society taking their views,' the minister said, adding, the cabinet would also hold discussions.
'Finally, day after tomorrow, after discussing with the Prime Minister during the VC, the government will take a view on this by April 13 or so. As of now, we have not taken any view on it. We are studying all the reports,' Sudhakar told PTI.
The minister observed that the Covid-19 cases were slowly spiking in India but not multiplying the way they have in some other countries like Italy, Spain and the United States as the government had declared 21-day national lockdown early and taken other strict measures. 'Let's see for one week and see.'
'We need to fight this out collectively and by strictly following the quarantine methods and social distancing,' Sudhakar stressed.
Chief minister B. S. Yediyurappa had on Wednesday said his government was in favour of lifting lock-down in districts which remained free from the virus after April 14 subject to approval from the Centre.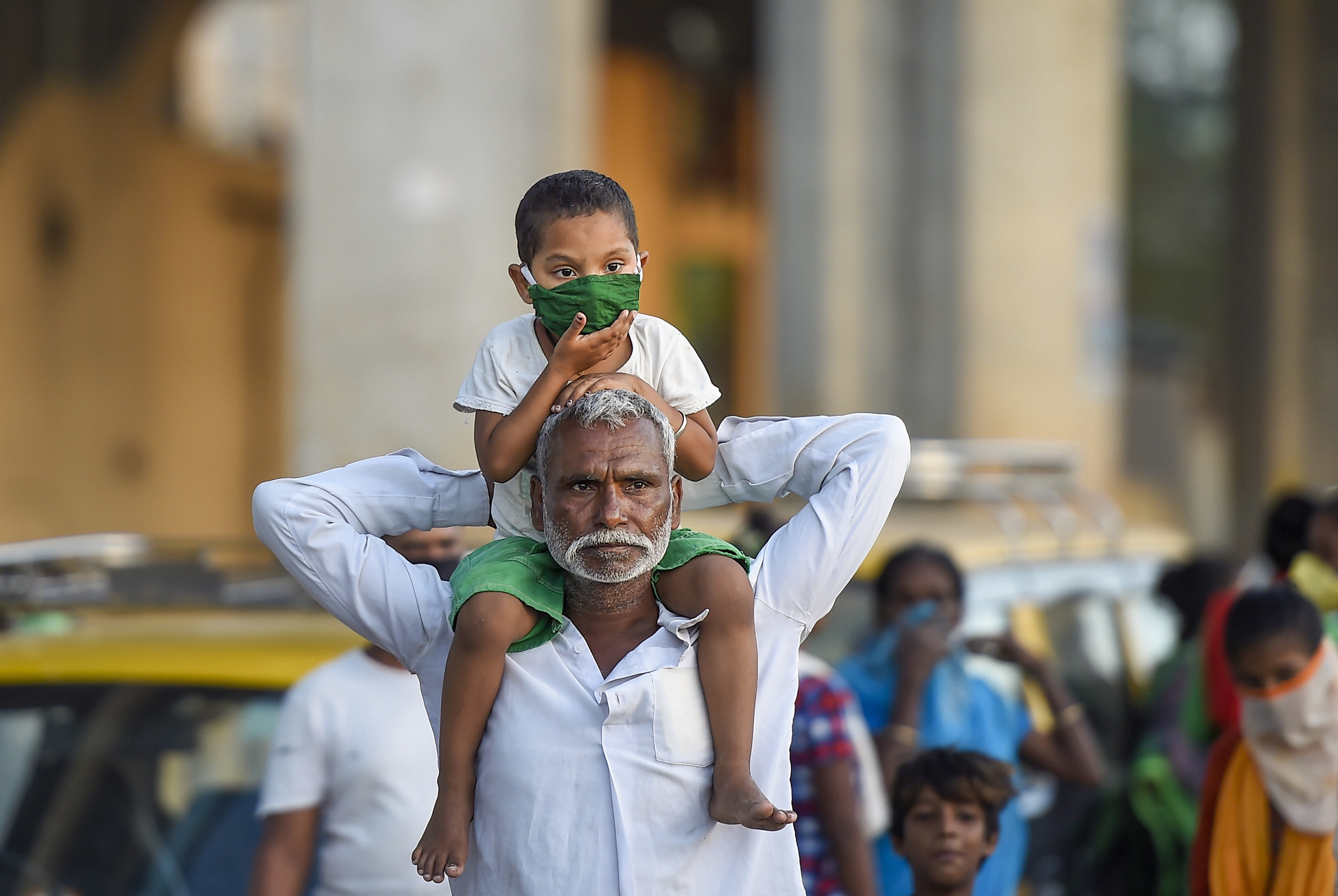 Police step up vigil in Lucknow hotspots
Police have stepped up vigil and barricades were erected in eight major and four minor Covid-19 hotspots in the Uttar Pradesh capital that have been completely sealed to check the spread of the deadly virus.
Police teams are carrying out patrolling in these localities to ensure that nobody ventures out of their homes, police commissioner, Lucknow, Sujit Pandey said.
'All the hotspots in the city are already barricaded and are being sealed completely till the morning of April 15. All establishments will be closed in these localities and the media's entry too will be restricted,' he said.
Only basic minimum supply of essential commodities will be maintained in these localities, Pandey said.
He said fire brigade vehicles will sanitise these areas and only select cleaning staff will be allowed to enter the hotspots.
The eight major hotspots in the state capital included localities near eight mosques where Tablighi Jamaat members were found staying.
The minor hotspots are in Vijay Khand and Gomti Nagar, where four members of a family including a two-and-a-half-year-old child tested positive for Covid-19.
A locality near Alina Enclave in Khurramnagar, where a local tested positive, has also been marked as minor hotspot.
Another minor hotspot is in a locality in the Madiaon area after a man tested positive there. A locality near a clinic at Munshipulia, where a man infected with COVID-19 was treated for some time, has also been declared a hotspot.
The Uttar Pradesh government had on Wednesday decided to completely seal off coronavirus hotspots in 15 districts to stop the spread of the infection, announcing curfew-like restrictions there.
Jharkhand reports 1st death
A 72-year-old man died of coronavirus in Bokaro district, the first Covid-19 fatality reported in Jharkhand, a health official said on Thursday.
The patient died on Wednesday night, Bokaro district Chief Medical Officer Ashok Kumar Pathak said.
The elderly man, who hailed from Gomia's Sadam village, was kept in the isolation ward of the Bokaro General Hospital after he showed symptoms of the virus on April 5.
He was later tested positive for Covid-19, he said.
With 8 fresh COVID-19 cases having reported in the last 24 hours, the overall count in the state rose to 13-five in Bokaro, including the deceased, seven in Ranchi and one in Hazaribag, a health department official said.
Pathak said that three family members of the woman, who had tested positive for COVID-19 on April 5 in Bokaro district's Telo village, also tested positive on Wednesday.