Used-ventilator import ban lifted
Concern over fallout on patients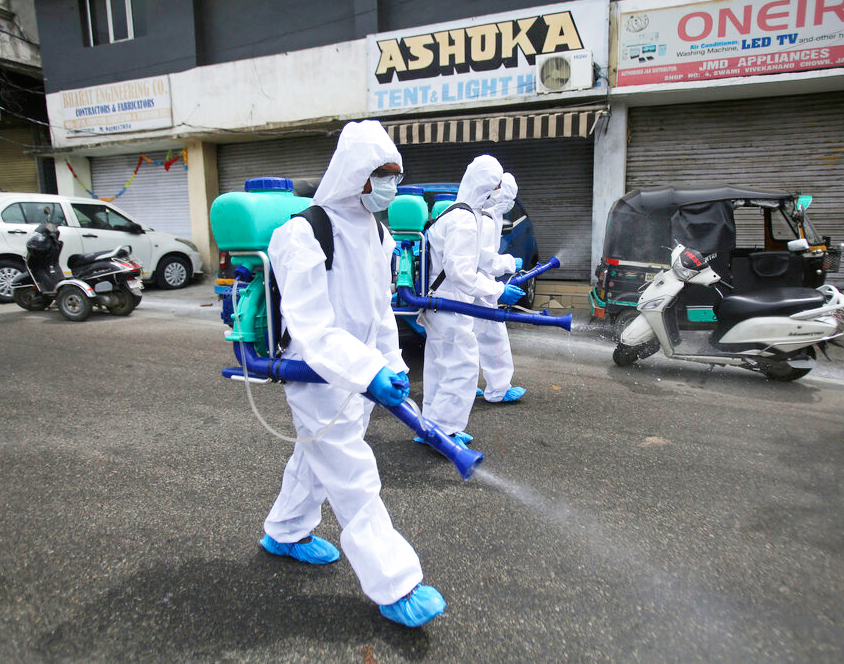 Indian municipal workers disinfect an area during lockdown to prevent the spread of coronavirus in Jammu, Thursday, April 16, 2020.
(AP)
---
New Delhi
|
Published 16.04.20, 11:42 PM
|
---
The Centre has revoked a ban on the import of used ventilators, stirring concerns among sections of doctors and industry executives whether this might expose patients to aged, retired and uncalibrated devices sold in a largely unregulated market.
The Union environment ministry, which regulates the import of hazardous and other waste materials, said in an office memorandum on April 1 that it would allow the import of used ventilators by hospitals up to September 30, 2020, relaxing the country's import policy.
The Centre and the states are currently trying to increase their inventories of ventilators as part of efforts to enhance their preparedness for the coronavirus disease .
The rules on waste materials prohibit the import of critical care medical equipment, including ventilators, for reuse.
However, the ministry said it had received several requests for relaxation of the import policy to facilitate clearance for used ventilators amid the urgent need to treat Covid-19 patients.
The ministry said hospitals could procure used ventilators and any used ventilators already imported and lying at the ports may be cleared by customs.
The order has evoked concern among some doctors and domestic ventilator makers, who have underlined that used ventilators are almost always obsolete machines, junked by users in developed countries and sold at low prices in India.
"We would urge the government not to permit imports of second-hand ventilators," said Rajiv Nath, the coordinator of the Association of Indian Medical Device Industry (AIMED).
"Calibration and quality checks are critical, but the refurbished ventilator market is largely unregulated."
Nath said if the government believes that India cannot avoid the import of used ventilators, it should at least ensure they are compliant with all the specifications applied on other manufacturers and are tested at accredited national laboratories.
Not all doctors appear uncomfortable with used ventilators. "It's like buying a second-hand car. As long as the ventilator is from a good standard company and has all modes of ventilation and good monitoring tools to monitor respiratory performance, it should be okay," said Subhal Dixit, former president of the Indian Society for Critical Care Medicine in Pune.
But a New Delhi-based critical care physician, Manju Mani, said she would be wary about refurbished ventilators because there could be a question about their performance reliability, something she said should never come up when doctors are looking after critically ill patients.
Members of the Indian Society for Critical Care Medicine and some industry executives estimate that the country has between 40,000 and 60,000 ventilators.
A senior health ministry official had said earlier this month that the government had ordered 49,000 new ventilators.
"There are several companies in India that make world-class ventilators," said an industry executive whose company produces around 30 ventilators a month.
"We understand the high demand now. But used ventilators are usually discontinued models — something someone has thrown away."