Ganesh Pyne: Inhabiting a twilight world
One of the interesting features of this exhibition are the letters where one catches a glimpse of the private world of this reclusive artist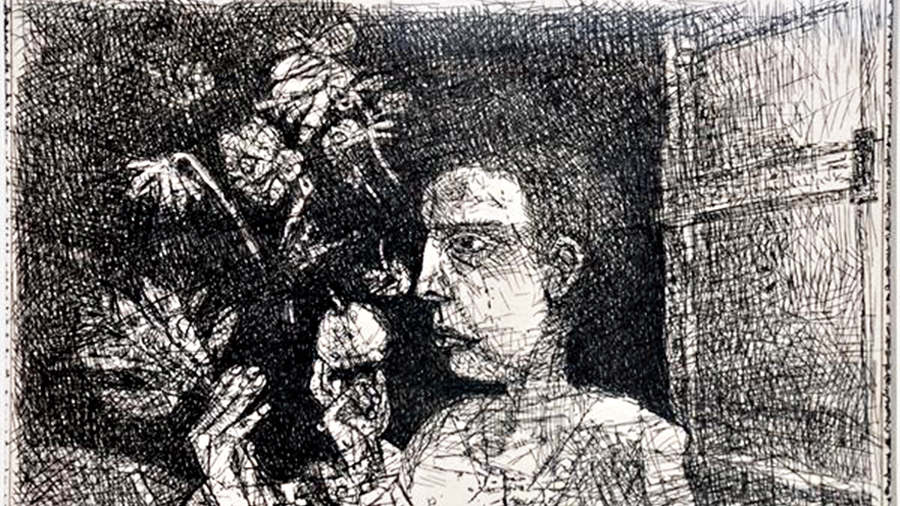 ---
---
Ganesh Pyne's works never fail to intrigue viewers with the aura of mystery that veils them. Even when he depicted the most mundane of objects he invested them with an enigmatic air that transported them from here-and-now reality to the realm of imagination where the most unlikely things can happen. That was quite evident from his virtual exhibition, In the Shadows (August 2-September 14), organized by Akar Prakar in partnership with Saffron Art. Here, small drawings and paintings on letters written to his young friend, Shaibal Ghosh, an artist in his own right who predeceased him, were on display. Some recurrent motifs in Pyne's works, such as the monkey as his alter ego, the lamp and an inscrutable woman with a cat as her companion also make appearances.
One of the interesting features of this exhibition are the letters where one catches a glimpse of the private world of this reclusive artist. Written in lucid Bengali in a clear, flowing hand, the script frames the tiny watercolour images, the most engaging of which is a miniature self-portrait with large liquid eyes. However, the most arresting are the pen-and-ink images that inhabit a twilight world. They are done with consummate skill and intense feeling. Their intricate network of cross-hatching and the subtle gradations of grey from smoky to charcoal add to their enchantment. The precision and panache with which Pyne drew each line are amazing. A discarded chest of drawers resembling a ribcage stands in a corner next to a bucket. A tap in full flow fills it up. In the background, a window opens into the darkness, while the intricate play of half light and shadows on the wall lends an air of theatricality to this dinghy corner, perhaps of his own mouldering ancestral house, or of Mandar Mullik's studio where Pyne drew the cartoons (after Disney) for Mullik's animated films.
The bone white of the glass kerosene lamp chimney is in stark contrast with the dark shadow it casts behind it. Pyne's drawings were elegies to the decaying city, Calcutta. The solitary, abandoned mansion with overhanging balconies on every floor is wrapped in an air of mystery. It is a phantom presence like so many houses waiting for the wrecker's ball in this forlorn city. Pyne cast a spell on viewers in the same way that his grandmother's fairy tales and folklore enchanted him in his childhood. Even when he executed a self-portrait, it is not without an element of fancy. Pyne stands in profile before an open window while flowers and insects float and explode in the darkness behind him like fireworks. The solitary figure with a wild-eyed look and the wise monkey (perhaps from Kshirer Putul written by Abanindranath, who became and remained Pyne's inspiration, overshadowing both Rembrandt and Klee, whom he admired earlier) from a bestiary reveal the unseen, hidden depths of Pyne's soft-spoken, placid personality that have dark, subterranean shades.
Two women as different as night and day add to the attraction of this exhibition. One of them, with a Gioconda smile on her lips, chews her necklace. She sits at a table in between a vase with fresh flowers and a smug-looking cat. The other is a "woman sowing" carrying a sapling and a pitcher of water. Very different from his death-haunted paintings.